A transformed Chiefs squad has been hard at work this offseason in preparation for Jacksonville on Sunday.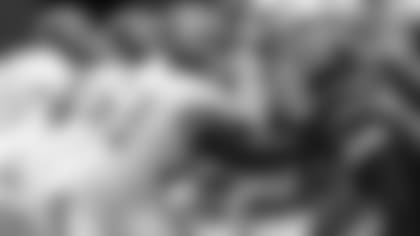 "I look forward to the challenge of playing the Jags," Coach Andy Reid noted. "They're a fast football team. I've had a chance to look through their tape, and they're playing fast, aggressive football on both sides of the ball. I don't know exactly who's going to be there coming off injury for them, but we'll prepare for everybody, all the different looks. Whoever is there, we'll be ready."
*Injury Update: G Jon Asamoah did not practice on Wednesday and LB Nico Johnson worked through his high ankle sprain. *
Following practice this afternoon, Chiefs players talked about the start of the regular season, facing the Jaguars and showcasing their hard work.
WR Dexter McCluster on competing in Jacksonville this weekend:
"We talk about it; winning is fun, when you don't win, it's not fun. Tamba (Hali) just said it to the team overall when we were breaking it up after practice today. (He said) 'Just go out there, you know what we have to do, put in the hard work and go out there and show them what we've done'…Our attitude is going out there and being in the best condition, executing, scoring points as an offense, and defense is going to do what they have to do. Special teams will contribute. I think we need to go out there with the mentality, 'don't give up, don't let up.'"
S Kendrick Lewis on the state of the team:
"I feel good. I feel like we've built something great with this team. Camaraderie is back, it's the beginning of something special. We've worked hard through training camp and now our true test is week one."
T Eric Fisher on playing in his first regular season game:
"It's going to be a great experience running out for my first official game. You can't overhype it in your head. It's just like every other game I've played, but obviously (there's) attention to this game. I'm pretty excited; it'll be a good experience."
TE Anthony Fasano on the Jaguars defense:
"(They have a) very strong front seven that plays really hard. They're looking to get turnovers so it will be a good challenge for our offense."
DL Mike DeVito on the Jaguars offensive line:
"I think they have a really good line. I think they can do a lot of different things. They're quick enough and athletic enough to run their zone stuff but they can also power up and run their downhill gap scheme. It will be a good challenge for us up front."
WR Junior Hemingway on the team's outlook on the upcoming game:
"We're ready to go out there and show the league what the Chiefs are going to do this year. We've been working so hard, we've been coming together as a team, both offense and defense and we're ready to go out there and put all our hard work to good use."
LB Dezman Moses on the Chiefs organization and John Dorsey:
"I'm feeling really good. There are some good young guys here, some great vets, leadership and Coach Andy Reid is a great coach, known for winning. I'm excited to be a part of this program, it's up and coming and it's definitely looking good for the near future…John Dorsey believes in me and I don't like to let people down so I'm going to come out and play my game and help the team anyway possible."
T Branden Albert on starting the regular season:
"I'm ready to play football. I'm ready to play actual, meaningful football. The road game starts now. Every game counts, every practice, every meeting, it all counts and I'm just ready to start and get going with my teammates and get this thing rolling."
CB Dunta Robinson on the mindset of the team heading into week one:
"Sunday is for real. It's our chance to get off to a good start and that's what you want to do as a team. You want to start fast. We're a young team but also a veteran team, we have a lot of guys that have played a lot of football. We have to stay on the same page, understand there is one goal, one focus that you have to take into game one. You can't say, 'Oh we'll get it right the following week.' We need to get it right this week if we want to set ourselves up for good position later on in the season." Check out photos from Wednesday's practice here.