After the victory on Sunday, the Chiefs are quickly switching gears and preparing to play under the lights of Lincoln Financial Field in front of a national audience. With just a few days in between, they hit the ground running on Monday. Work continued on Tuesday during a rainy day of practice at the University of Kansas Hospital Training Complex.
*Injury Update: T Branden Albert (shoulder) and LB James-Michael Johnson (neck) did not practice on Monday but both were in full participation on Tuesday. TE Anthony Fasano (ankle) did not practice Monday or Tuesday. CB Brandon Flowers (knee) and TE Travis Kelce (knee) did not practice on Monday and were limited on Tuesday. DL Mike DeVito (neck) was limited on Monday and in full participation on Tuesday. LB Nico Johnson (ankle) and LB Dezman Moses (toe) have been in full participation this week. *
Here's the buzz around the locker room.
OC Doug Pederson on QB Alex Smith:
"For us, Alex is exactly what we needed. He does the right thing with the football. You notice he's a guy that's going to make the right decisions, he's going to put the ball where it needs to be.He's an accurate passer, he's smart at the line of scrimmage to get in and out of trouble plays. He is managing the game, and that's what you want from your starting quarterback. He's done an excellent job with that. He's led us to two victories and that's the ultimate stat."
DC Bob Sutton on DT Dontari Poe:
"I think – I've said this before – he's a very gifted player. He has unusual quickness, unusual conditioning, unusual change of direction for a big man. I think he's done a great job to become a really great technician, to become football-savvy out there – knowing formations, knowing alerts – all those things help you become a better player and help you play at a high tempo or a high speed. He's done a great job."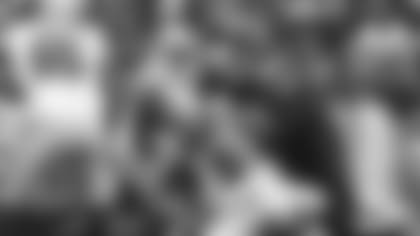 QB Alex Smith on the keys to the offense:
"Execution, that's it. That's what it's all about. It's about being efficient on second down, putting yourself in good third down situations when you do have them, so that you can convert and keep the guys going. And then when you do get in the red zone you have to be able to convert to points."
OL Donald Stephenson on the Thursday night matchup:
"It's a nationally televised game, so that's always big. But it's just any other big game on Thursday; Monday, you've got to come with it because you know everybody's watching. We've got to prepare that way too."
WR Junior Hemingway on preparing for the Eagles defense:
"They fly around. It's just up to us executing. We watch film on them, like against San Diego and things like that, they were executing. Some plays were made; guys had good coverage and the other team made the play. We just have to execute."
LB Derrick Johnson on playing at Lincoln Financial Field:
"It's going to be a hostile environment. It's going to be one of the hardest places to play this year. It's going to be a prime-time game and the big-time players have to step up in this game. If we're going to win this game, everybody is going to be on their stuff because the Eagles are a really good team."
S Eric Berry on studying and getting ready during this short week:
"It's very important. The mental part of the game is going to be very important this week, we're not going to have that many reps. it's critical that we get into our playbooks and make sure that we know what's going on. (We have to) watch some extra film and make sure we're on the same page. I think Coach has us in position to where we can do that and be on top of that, so we need to take advantage of that."* *
LB Akeem Jordan on head coach Andy Reid:
"I think he's a phenomenal coach. He's tough nose wherever he goes. I don't think there's too much of a difference between him here and Philly. He's the same guy wherever he goes."* *
WR Dexter McCluster on Philadelphia's defense:
"Well first and foremost, as an offense you always have to have that confidence in yourself knowing that whatever defense they throw at you, you want to be successful. Their defense is pretty fast. They run sideline to sideline, but our offense is about timing and if we're on time we should be okay."