The very first step in receiving the annual Len Dawson Scholarship is getting an application. That part isn't up to the student, as only 80 are sent out to some of the best in the Kansas City area.
Of the 80 applications sent out in 2015, 45 were sent back. Then, a scholarship committee, including Dave Lindstrom, Larry Marshall and pastor Phil Hopkins, narrowed the pool of 45 down to five students for interviews.
From that point, the committee selected Astrid Reynoso Zaragoza from Park Hill South High School as the 2015 winner.
"It's awesome," Zaragoza said. "It was really nice. It's a great experience, a once-in-a-lifetime opportunity."
Zaragoza is currently enrolled in Northwest Missouri State University and plans to major in biochemistry.
Her favorite hobby is running.
"I like to run," she said. "I used to run cross country and track and I love to swim. I have a great family, so my sisters and I just go out and play. We just have a lot of fun all the time."
This past June, Zaragoza had the chance to meet Dawson and tour Arrowhead Stadium.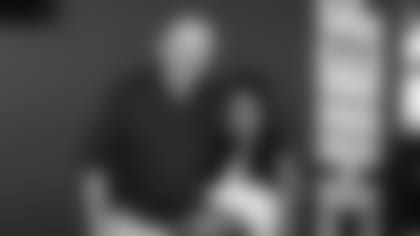 "Just meeting him and how good of a person he is and how he interacted with my family, it's amazing," she said. "The views were awesome."
Dawson, who has been giving out the scholarship for 39 years now, loves meeting the scholarship winner every year.
"I enjoy it a lot because I was concerned about my grades when I was in high school and I was in college," he said. "I was a pretty good student, but not the type of student that comes here to get this honor because they are the top-notch kids of high school in the metropolitan area."
Last Friday night before the Chiefs game against the Seattle Seahawks, Zaragoza and her family were treated to on-field recognition, where they had the opportunity to meet back up with Dawson.
This time, they also met Chiefs chairman and CEO Clark Hunt.
"He was really nice and he introduced all of my family to his family, his wife and everybody there," Zaragoza said. "It was definitely one of the best things I have ever experienced. It was really, really fun. We got to go down to the field, we got to see all of the players getting ready for the game, and I spent some time with my family.
"That was just really cool to see in front of me."