The accolades just keep coming for Kansas City Chiefs' quarterback Patrick Mahomes.
Mahomes' ridiculous numbers this season – his first as a starting quarterback in the NFL – are well documented, as the 23-year-old broke numerous franchise and league records while becoming the second player ever to throw for 5,000+ yards and 50+ touchdowns in a single campaign.
But to earn this kind of recognition from PFF – a website devoted to advanced analytics – demonstrates that Mahomes also put together a stellar performance beyond just the traditional stats.
Here's a portion of what the folks from PFF had to say about Mahomes:
It was a two-man race for the vast majority of the season. The big separator though between Mahomes and Drew Brees was consistency. Mahomes produced game in and game out in a high-volume passing offense. He didn't have a single-game grade below 60.0 all season long, and he only had three below 70.0. Brees, on the other hand, had one below 60.0 and four more below 70.0.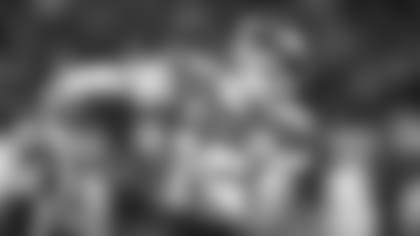 PFF went on to detail Mahomes' unique talents when the play broke down.
Maybe the most special thing about Mahomes though was his playmaking ability outside of the pocket. The Chiefs quarterback gained 1,156 of his passing yards on plays outside the pocket – 319 more yards than any other quarterback in the NFL. His 16 touchdown passes on such plays were twice as many as any other quarterback in the league. Even when the initial play call was shut down perfectly, Mahomes could still get the job done.
Whether it be the traditional numbers or the new-age analytics, Mahomes was special in 2018, and while the Chiefs fell short of their ultimate goal this season, the future appears very bright.