The three quarterbacks made their way down the hallway, clad in red, with a swath of media and hospital employees following close behind in their wake.
There were cheers, gasps and countless smiles at seemingly every turn as Patrick Mahomes, Chad Henne and Chase Litton visited unsuspecting patients.
This was not an ordinary day at The University of Kansas Health System.
"It's a cool feeling just to come here and lift their spirits a little bit, but you can see the determination that they already have," Mahomes said. "It puts things in perspective and helps us realize how much [of what we do] – like playing football games – means to them."
The quarterbacks stopped by nearly a dozen rooms at the hospital, offering each patient an autographed flag and some words of encouragement along the way.
"I talked to them just like I would anyone else in my family or on the team," Mahomes explained. "They're good people – they're not looking for anything, they just want to know who you are as a person away from the football field."
It made for a series of truly unique interactions, from Mahomes signing one woman's Chiefs-themed tattoo to a casual conversation about video games with a young fan.
"It's awesome. It's more than just football - being able to see and meet people," Mahomes added. "I talked to one kid about playing Fortnite, so it's really cool just to be able to relate to people in ways [beyond] just football."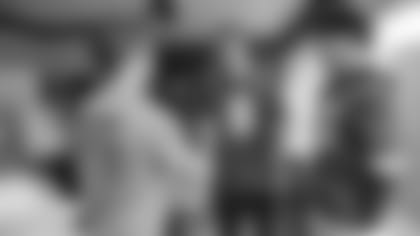 "For a couple of minutes, these people get to forget about what they're dealing with," said Bob Page, President and CEO of The University of Kansas Health System. "They get to really see what we have with the Chiefs and how important these guys are to us. It's incredible."
The visit was an example of what both parties envisioned when the Chiefs and The University of Kansas Health System first teamed up back in 2012. The partnership has helped elevate the level of healthcare services offered to the team and fans while positively impacting individuals throughout the Greater Kansas City community.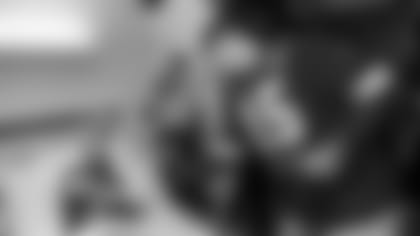 Just last year, the Chiefs and The University of Kansas Health System joined together with the V Foundation for Cancer Research to fund the diligent work of a young researcher at the KU Cancer Center. The announcement was broadcast on Monday Night Football, drawing the eyes of the nation to the work being done to defeat cancer right here in Kansas City.
It's a collaboration that carries a significant impact – something that Mahomes, Henne and Litton certainly felt when coming down the escalator into the hospital lobby following the visit. Hundreds of patients and hospital employees were waiting there to greet them, letting out a roar synonymous with a Sunday afternoon at Arrowhead.
It was a fitting conclusion to a special afternoon - and one the players won't soon forget.
"You can see the fight that these people really have," Mahomes said. "That's stuff that you can look up to and it's inspirational because these people are laying it all on the line every single day. It's good to know that what I can do [on the field] helps lift their spirits."
The Chiefs Community Caring Team, led by the Chiefs quarterbacks, visit The University of Kansas Health System to share hope and sign autographs for those fighting medical battles, including those in the oncology unit.