As is the custom for businesses come holiday time, the Kansas City Chiefs make it a practice of sending Christmas cards. In most years, the cards carry a team photograph and a sentiment that covers what you would find in standard holiday greetings cards.
But in 1990, the franchise suddenly departed from tradition. The Chiefs did not seek out, mind you, to be different, or suddenly politically engaged, it just turned out that way.
The team had returned from Germany earlier that August where they had played a pre-season game against the Los Angeles Rams. The game, held at Berlin's historic Olympic Stadium, was part of a growing league initiative to attract European fans to American football.
As fate would have it, the Berlin Wall, separating the city's communist-controlled eastern section from the democratic west, had only recently been breached as Germany abandoned its two-country formulation and over time became a unified nation.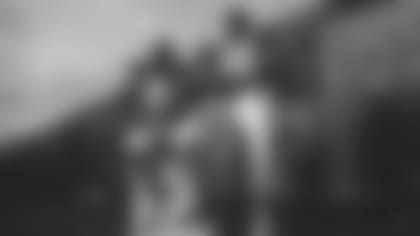 To no surprise, visitors flocked to a wall that had only recently separated east from west, and a traveling party of Chiefs' staff and players out on a sight-seeing trip were no different. Everyone, it seemed, wanted a piece of the now-tottering wall to take home and, taking a page from what was surely an historic moment in time, some members of the Chiefs' public relations department had an idea.
Hurrying back to their hotel with tight end Jonathan Hayes and running back James Saxon in tow, the staff urged the two men to quickly change into their uniforms and the group scurried back to the wall with the hopes of taking a photograph. The team photographer happened to be traveling with the team.
Seeing a young German boy from what had been East Berlin nearby, Hayes and Saxon positioned themselves close by a heavily graffiti-marked portion of wall and invited the boy to pose with them for a photo.
What they later produced would become the club's Christmas card for 1990.
Later, back home in Missouri, staff huddled with graphic designers and produced a die-cut card resembling a broken section of the Berlin Wall including the sentiment, "and the wall came tumbling down" as the cover. Upon opening the card, "peace to you this and every season" flanked the photograph of the smiling trio.
Completing what would be the most unusual Christmas card in the team's long history was a small piece of the Berlin Wall glued to the inside as a gift.