The Kansas City Chiefs and Indianapolis Colts reunite Saturday and on a much-larger stage, the AFC Wild Card. 13 days after the teams played in the Week 16 matchup at Arrowhead Stadium, the Chiefs travel to Lucas Oil Stadium, hoping to avenge their home loss and take the next step towards their ultimate goal.
While Chiefs head coach Andy Reid isn't concerned with the previous loss to the Colts, he described the most-important takeaways from that matchup.
"We have to eliminate the turnovers that we had in that particular game," coach Reid said. "They did a good job of getting us a few times. And then, obviously, you're striving to create turnovers, on the other side. That's a challenge, I think, both ways – both offensively and defensively. They're efficient with the ball; they don't have a lot of penalties that are called against them and they don't turn the ball over much. That's this time of the year; you've got to eliminate mistakes. Mistakes get magnified in the playoffs."
The last time the Chiefs played in a closed dome was preseason matchup against the New Orleans Saints on Aug. 9, 2013. While the weather won't play a factor, Chiefs QB Alex Smith anticipates a decibel-raising Colts crowd that they'll also have to contend with.
"It's a playoff game, so it will be even louder," Smith said. "We'll be inside, so, no question, that will be a challenge for us on the offensive side of the ball, to be able to handle the crowd noise. Anytime you have to communicate, sometimes it's going to have to be nonverbal and guys are just going to have to see things and hit things on the run and we have to be on top of it."
While the Colts fans can disrupt on-field communication, the Chiefs offense focused its efforts this week on moving the ball against an Indianapolis defense, headlined by OLB Robert Mathis, who led the NFL with 19.5 sacks in 2013.
Chiefs LT Branden Albert described what makes Mathis so dominant.
"It's the energy level," Albert said. "Most guys that are pass rushers only rush the passer. He plays run and pass and he plays with a lot of energy and with a lot of vigor. You have to be prepared and know what you're getting yourself into. You know it's one of those games that you're going to be fighting all game."
The Chiefs offensive line knows it will need to be on-point, protecting for not only Alex Smith but also trying to pave runways for Pro Bowl RB Jamaal Charles, who offered a recipe for potential success against the Colts.
"We've just have to play better than them," Charles said. "They came up in here and they played tough; we relaxed, after the first drive, and we weren't moving the ball. We were rusty; we weren't converting on third downs and we weren't moving the ball. We just have to come out and play better. We know it's a playoff game and it's going to be faster and everybody's going to have their best game plan and their best players on the field. We know what's at stake here. So, as a team, we all know that we have to player faster and play harder than them."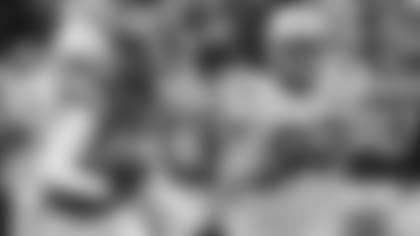 When incorporating the aerial attack, Alex Smith with have several targets to choose from, including WR Donnie Avery, who returns to face his former team. Avery shared what he and his teammates have done this week to prepare for the Colts best effort.
"A lot of film studying," Avery said. "Working on our craft, while we were out on the field and making every play count. Indy's secondary is coming off of a good game against Jacksonville. It's a fast field, so, we have to play fast. Everything gets amplified and everything gets faster in the playoffs, so, it'll be good to have a fast game."
On the other side of the ball, Chiefs DE Mike DeVito brought leadership and playoff experience to the team in 2013 and knows exactly what to expect on Saturday.
"I actually have had the blessing of playing in Indy twice in the playoffs," DeVito said. "I know that the atmosphere there is fun. I played the AFC Championship there in 2009 and then the Wildcard round in 2010 and it's wild. It's going to be wild. They have great fans out there, so it is going to be a challenge for us. It's a loud, really loud place, loud stadium. Even during the regular season it's loud, so, you guys can imagine how it's amped up, during the playoffs."
One of the many reasons for the Colts offensive success starts with their QB, Andrew Luck, who, despite making just his second postseason start of his career on Saturday, is not easily thrown off of his game, according to Chiefs LB Derrick Johnson.
"He can't be rattled too easily," Johnson said. "Andrew Luck is a guy that, he's beyond his years. His mental game is very old. He knows what is going on; he's a very smart player. He's a fast guy and can get out of sacks and pressure. If you can stay in his face and get him moving a little bit, even though he can move pretty well, you still are going to frustrate him a little bit. If we play tighter coverage in the back end and get some guys in his face, it will be a different game."
Expected to return from an injury elbow that sidelined him for the past five games, Chiefs Pro Bowl LB Justin Houston summarized the team's mindset for Saturday.
"Everybody knows, it's playoff time," Houston said. "Win or go home. Everybody's mindset is we are not ready to go home. As long as we keep practicing the way we are practicing and everybody is putting in extra work in the film room, we'll give ourselves a great chance to win."
Helping man the Chiefs secondary is Pro Bowl CB Brandon Flowers, who said the team is well aware of Andrew Luck's weapons, on the outside.
"They're definitely an explosive group," Flowers said. "They are fast guys that can get down the field quick; Luck can hit them in short crossing routes and they can still take it the distance. It's going to be a hostile crowd, on the road, and they want to get their home playoff win, so, it's going to be a nice, nice atmosphere out there."
Having to endure and overcome the Colts crowd will also be the Chiefs special teams unit, which has been prepared all week long by special teams coordinator Dave Toub and assistant Kevin O'Dea. Coach Toub offered a scouting report on the Colts, stemming from the last matchup, between the clubs.
"They were flying around," Toub said. "They're a well-coached group; we know that. They flew around in our game and we didn't get much on them, maybe one punt return, fairly decent and a couple of kick returns. They fly around and are going to be even faster, we know, indoors. The wind is not going to be a factor. They have a good kicker. (Adam) Vinatieri is a veteran, proven guy that has won games in the playoffs. He's going to bring a lot to the table. And then (Pat) McAfee as a punter and kickoff guy, he does a good job of keeping the ball away from us. It's going to be a tough challenge, one that we're going to try to rise to." 
Chiefs WR/PR Dexter McCluster echoed Toub's scouting report.
"Indy's special teams, they have guys that play hard and play to the whistle," McCluster said. "We have to outplay them in every phase. Their defense, those guys came to play the last time we played them, so we have to remember that, watch the film and go out to their dome and be ready to play."
The Chiefs will travel to Indianapolis on Friday and one day later, they'll board the same plane to come home, hopefully with the playoff win in hand.
Saturday's kickoff is set for 3:35 p.m. CT.