HOUSTON DROPS QUARTERBACK:LB Justin Houston recorded 2.0 sacks (-3.0 yards) of QB Jake Locker in today's game. Houston now has 28.5 career sacks (-174.5 yards) in four seasons with the Chiefs (2011-14). It is his eighth-career multi-sack game. Houston added three solo tackles in the contest.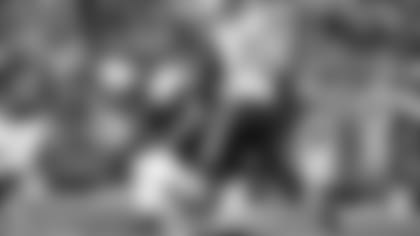 BAILEY TALLIES FIRST SACK OF THE SEASON:DE Allen Bailey dropped QB Jake Locker for a 10-yard loss in the first quarter. It marks Bailey's first sack of the season and his third-career sack (-27.0 yards). He added two solo tackles in the contest.
WALKER RECORDS FIRST SACK IN KANSAS CITY UNIFORM:DE Vance Walker dropped QB Jake Locker for a 10-yard loss in the second quarter. It marks Walker's first sack in a Chiefs uniform. He has 9.0 sacks (-53.0 yards) in his career. Walker added one solo tackle in the contest.
FASANO GRABS TOUCHDOWN PASS:TE Anthony Fasano caught a five-yard touchdown pass from QB Alex Smith in the fourth quarter of today's contest. It is his first touchdown reception of 2014 and his fourth as a member of the Chiefs (2013-14). He now has 28 career touchdown receptions. Fasano finished the day with three receptions for 29 yards (9.7 avg.) with one touchdown.
BERRY LEADS TEAM IN TACKLES:S Eric Berry led the Chiefs defense with 15 tackles (14 solo), a new single-game career-high for the fifth-year player. His previous single-game high was 12 tackles, set in two games, both coming in his rookie year in 2010.
HAMMOND GRABS FIRST NFL RECEPTION:WR Frankie Hammond Jr. caught his first NFL pass in the first quarter of today's game, hauling in a 22-yard reception from QB Alex Smith. He added four punt returns for 47 yards (11.8 avg.) with a long of 30 yards in the game.
FRESH FACES MAKE STARTS:LB Josh Mauga, G Mike McGlynn, WR Frankie Hammond Jr. and G Zach Fulton each made their first-career starts in a Chiefs uniform in today's game.
FULTON MAKES FIRST CAREER START AS ROOKIE:Rookie G Zach Fulton started at left guard in today's contest, the only rookie to start in the club's opening game of 2014. Fulton becomes the first sixth- or seventh-round Chiefs draft pick to start in the club's Week 1 contest in three decades. The last sixth-round draft pick to start was CB Steve Taylor in 1976. In 1984, Chiefs CB Kevin Ross started in Week 1 as a rookie seventh-round draft pick.* *
AVERY LEADS RECEIVERS:WR Donnie Avery caught seven passes for 84 yards (12.0 avg.) with a long reception of 25 yards to pace all Chiefs pass catchers.
COLQUITT PUTS PUNTS INSIDE 20:P Dustin Colquitt booted five punts for 213 yards (42.6 gross, 43.0 net) with two inside the 20-yard line. He has landed 287 career punts inside the 20-yard line, the most in Chiefs history. His 287 punts inside the 20 rank 12th in NFL history.
CHIEFS RECORD BOOKMOST PUNTS INSIDE THE 20, CAREER
1      287           Dustin Colquitt             2005-14
2.     117           Louie Aguiar                  1994-98
3.     62             Bryan Barker                 1990-93
4.     58             Jim Arnold                    1983-85
5.     54             Kelly Goodburn             1987-90
SANTOS SCORES FIRST NFL POINTS:Rookie K Cairo Santos, an undrafted rookie free agent out of Tulane and originally hailing from Brazil, appeared in today's game converting one field goal and one PAT to give him his first four career NFL points. He is believed to be the first Brazilian-born player to make an opening-day NFL roster.