A very overcast sky, which later included rain, thunder and lightning, served as convincing fashion why the Kansas City Chiefs remained inside the University of Kansas Hospital Training Complex for both a walkthrough and team practice on Wednesday.
Following the morning walkthrough, Chiefs head coach Andy Reid entered the interview room and provided injury updates, as well as thoughts on this week's opponent, the Buffalo Bills.
"I think their defense is tremendous, very physical," coach Reid said. "They fly around. They're smart. Their front seven is as good as we've played, so we have to make sure that we're ready to go. Their back end now is healthy, so you put them in with the best that we've played there. They've been banged up and spotting people in different places, but they're whole now and they play well together."
Coach Reid also shared thoughts on his kicker, the AFC Special Teams Player of the Week, Ryan Succop.
"He was the special teams player of the week, rightly so," coach Reid said. "I thought he did a heck of a job the other day. It counted there at the end, when we really needed points. It's a tribute to his hard work; he doesn't take days off."
The Chiefs kicker was quick to defer all attention to the rest of his teammates.
"I'm blessed to work with Thomas (Gafford) and Dustin (Colquitt)," Succop said. "Those guys do a great job and that really helps me to go out there and perform and have a free mind and go out there and try to knock it through. Like I said, it's a team award."
Chiefs QB Alex Smith also addressed the media Wednesday, explaining the various challenges of road games, like the one this week at Ralph Wilson Stadium.
"They're all hostile," Smith said. "I'm not thinking about comparing them or anything. They're all, as an offense going in, they all present challenges, playing on the road, dealing with crowd noise. From my perspective, yeah, it's a loud place, but it seems like every time we play on the road it's a loud place. For me, once again, I'm not comparing. No question, there will be things we have to deal with, but I don't necessarily see it being different than any other road trip."
Just a few lockers down from Smith, Chiefs Pro Bowl LB Derrick Johnson was also fielding questions, including any extra challenges the Chiefs face traveling to Buffalo, after a recent three-week home stand.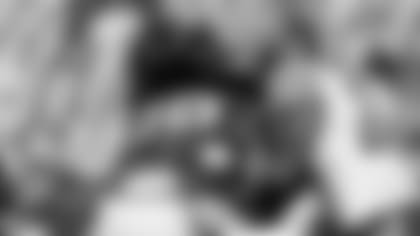 "There are challenges, just because it's easier playing at home, since you've got the crowd noise, especially on defense," Johnson said.
"It's going to be really hard, because the offense is going to be able to do all their checks. They're not going to get flustered. The way they will get flustered is because of what we do to them. You can count on our 12th man, when we're here at Arrowhead, which is great, but it will be a big change, because we've played three straight games at home."
Other news on Wednesday included the Chiefs elevating OL Rokevious Watkins to the team's active 53-man roster and signing TE Dominique Jones to the practice squad.
Watkins said he's been working for this very opportunity, since day one.
"Even in the beginning, when I was on the practice squad, I was preparing like I was playing every Sunday," Watkins said.
"I just have to continue doing what I was doing, with film study, getting the game plan down and staying in my playbook. I want to do whatever I can to help the team."
Watkins and the Chiefs return to practice on Thursday, when we'll hear from the Chiefs coordinators, Dave Toub, Doug Pederson and Bob Sutton.
For a look at Wednesday's Injury Report, click here.