The Kansas City Chiefs employ a talented stable of running backs heading into training camp this year, providing the offense with a slew of dynamic options who could make a significant difference at one point or another in 2021.
That group is of course led by second-year tailback Clyde Edwards-Helaire, who tallied 1,100 yards from scrimmage during his rookie campaign, but also includes veteran Darrel Williams, third-year running back Darwin Thompson, veteran Jerick McKinnon, former Jets' rusher Elijah McGuire, Derrick Gore and fullback Michael Burton.
Let's take a look at each of those players before the competition for roster spots gets underway at training camp.
The No. 32 overall pick in the 2020 NFL Draft, Edwards-Helaire put together a solid rookie campaign as the Chiefs' workhorse at tailback. In fact, from the beginning of the year through Week 15 – prior to getting injured and missing the final two games of the regular season – Edwards-Helaire ranked fourth among all rookies in terms of yards from scrimmage and 10th among all running backs overall. Additionally, among the running backs who amassed more scrimmage yards in that span, Edwards-Helaire tallied his production with the fewest touches (217) of any of them.
His best performances were in Week 6 at Buffalo (169 total yards), Week 1 vs. Houston (138 total yards) and Week 3 at Baltimore (134 total yards), demonstrating his skills as both a rusher and a receiver in each.
Once an undrafted free agent fighting to make the Chiefs' roster back in 2018, Williams exemplifies what it means to carve out a role in the NFL when given an opportunity. He's recorded 664 yards from scrimmage on 129 touches over the last three seasons and has routinely come through when relied upon during his brief career.
For example, last season (including the playoffs), the Chiefs put the ball in Williams' hands four times (3 carries, 1 reception) when facing fourth down and less than two yards to go. He moved the chains on all four touches and racked up 45 yards from scrimmage – the second-most of any player in that situation in the NFL – and a touchdown.
That's a very particular statistic, but it just goes to show that the coaching staff trusts Williams in big moments, and he often delivers.
Thompson is entering his third year with Kansas City after joining the Chiefs via the No. 214 overall pick in the 2019 NFL Draft. He's recorded 333 yards from scrimmage on 80 touches in that span and put together his top game as a professional in Week 17 of last season, handling the ball 21 times (14 rushes, 7 catches) for 110 total yards and two touchdowns.
The five-foot-eight, 200-pound Thompson also notched 131 snaps between the kickoff return and kickoff coverage units last season.
A new addition to the Chiefs' backfield this offseason, McKinnon has proven to be a dynamic weapon when healthy over the course of his career. From 2014-17 – McKinnon's first four years as a professional – he racked up 2,902 total yards from scrimmage (1,918 rushing, 984 receiving) and 12 touchdowns across 58 games for Minnesota.
His best season was in 2017, as McKinnon set career highs in rushing yards (570), receiving yards (421) and receptions (51) to finish just shy of 1,000 total yards from scrimmage on the season (991).
McKinnon's impressive year earned him a contract with the 49ers ahead of the 2018 season, but a knee injury suffered prior to Week 1 – and a subsequent setback – forced the speedy playmaker to miss all of 2018 and 2019 before bouncing back to amass 572 yards from scrimmage (319 rushing, 253 receiving) in 16 games last season.
Still young at just 28 years old, McKinnon could thrive in Head Coach Andy Reid's dynamic offense.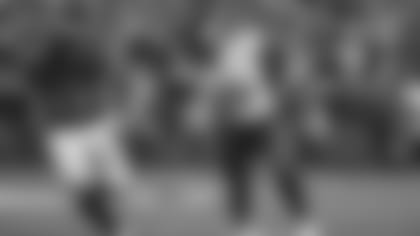 Originally a sixth-round pick of the New York Jets back in 2017, McGuire has some experience with 24 games (5 starts) to his name between the 2017-18 seasons. He recorded at least 460 yards from scrimmage in both of those seasons, handling a total of 216 touches (180 carries, 36 receptions) for 961 yards (591 rushing, 370 receiving) in that span.
He joined the Chiefs' practice squad in November of the 2019 season and has spent parts of the last two campaigns with Kansas City's practice squad.
The five-foot-nine, 200-pound Gore entered the NFL as an undrafted free agent in 2019 and began his career with the Los Angeles Chargers, where he participated in training camp and earned a spot on the practice squad in each of the last two years (with a quick stint on the Washington practice squad in between).
He's never appeared in a regular season game, but Gore did make the most of his opportunity in the 2019 preseason. In the Chargers' fourth and final exhibition contest that year, Gore led the Bolts with 64 yards and a touchdown on 12 carries.
Burton is in somewhat of a different category than the rest of the players in this group, as he's a fullback by trade with a different all-around skillset than the rest of the players in the running back room.
A fifth-round pick of the Detroit Lions in 2015, Burton has also spent time with the Chicago Bears, Washington Football Team and New Orleans Saints during his six-year NFL career. He hasn't been utilized much as a rusher in that span – tallying 15 carries for 29 yards – but Burton has plenty of experience as a blocker and a core special teamer.
Longtime fullback Anthony Sherman retired this past offseason, so Burton could slide into that role depending on how he fits in during camp.
This is an interesting group rife with talent that will surely make for some tough decisions following camp. The Chiefs had four running backs (including a fullback) on the roster prior to Week 1 last season but kept five (including a fullback) in 2019, so it remains to be seen how many Kansas City will keep on the active roster this time around.
It's certainly a good problem to have, however, as the Chiefs' backfield features several versatile players and an ideal blend of youth and veteran experience heading into camp.