The Kansas City Chiefs will head into training camp with four quarterbacks on their roster.
Obviously, the conversation begins and stays for a while with second-year player Patrick Mahomes, who hasn't gone more than a day or two without seeing a new article pop up somewhere on what could be expected of him this season. He takes over as QB1 after the team traded veteran Alex Smith to the Washington Redskins earlier this offseason.
In terms of Mahomes, there's excitement, intrigue, and a lot of discussions being facilitated about him in the middle of the summer—several weeks before he and his teammates put on pads and get after it at training camp.
The Chiefs signed both Chad Henne and Matt McGloin this offseason—two quarterbacks with NFL experience under their belts, and they also went out and signed rookie undrafted free agent Chase Litton out of Marshall after the draft. He was considered the top available undrafted quarterback.
"I thought they all did a nice job," Reid said of those three guys at the end of OTAs. "Two of them are veterans, they've been around for a little bit and been in similar offenses. I thought they did a heck of a job. Our young guy (Chase Litton), I thought he stayed on top of it and I thought he did a good job. You could tell that he had worked and studied.
"I was impressed by really all four of them and how they went about their business. It's a good room."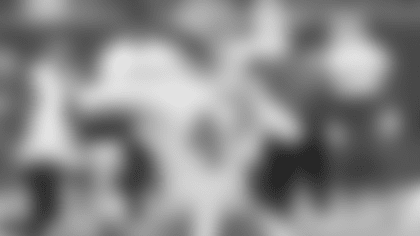 Henne, who enters his 11th year in the league, has the most experience and will be the backup. He has 53 starts over the course of his 10 years in the league with the Miami Dolphins and Jacksonville Jaguars.
"I don't know if you can explain it," Henne explained of why he made the decision to sign with the Chiefs. "It's just a feeling you have. Coach Reid, Coach Bieniemy, just having dinner with them and talking to them on the phone once (free agency) opened, it was a comfort level.
"It's easy to talk to them, speaking the same language that I'm used to. It just felt right."
Reid's history with quarterbacks also played a role in Henne's decision.
"It's a big part," Henne added. "I think he's had such success in the league with any quarterback, backup or starter. I'm willing to learn and I just want to be around that. I've been in that position to help a young guy out before, and I think that was a draw as well."
Henne also said he embraces the role of helping out a younger player like Mahomes—something he's done multiple times throughout his career.
"I think it's just kind of always been in me," Henne explained of why the mentor role suits him well. "I think it's the unselfishness. It's just a lot of fun for me, not only as myself as a player grow, but if I can give back because this league has given so much to me, why not give as much as I can?
"I mean, being with (Jaguars' quarterback) Blake Bortles, Blaine Gabbert (before that)—those kind of guys, and just seeing Blake grow in the last four years, it's been a lot of fun for me."
For Henne, the backup role is one of a sounding board and that means getting an understanding of his new playbook as quickly as possible—something he's been doing since he first arrived a few months ago.
"I've had six coordinators in ten years, so the verbiage was always different, so it shouldn't be a tough transition," he added.
McGloin, who spent last season with the Houston Texans, is best remembered for his four years with the Oakland Raiders (2013-16).
During that time, McGloin made seven starts and completed 58.1 percent of his passes with 11 touchdowns and 11 interceptions. He played collegiately at Penn State and went undrafted in 2013.
Litton, who played in 34 games in his three-year career at Marshall, completed 60 percent of his passes for 3,115 yards with 25 touchdowns and 14 interceptions last season.
Here's a snippet of NFL.com's evaluation of Litton:
"Litton is an early entrant who has the size and enough arm talent to potentially pique the interest of an NFL team looking to develop a big pocket passer…click here for full scouting report."
While Mahomes will have all the eyes on him once we get to training camp, and for good reason, the other three quarterbacks and how they are performing is something to watch as well.