One of the most intriguing storylines from the Kansas City Chiefs' 2016 season was the play of rookie defensive lineman Chris Jones, who at just 22 years old, was thrust into more playing time than many probably expected this early in his career.
With key injuries to veteran defensive line starters Allen Bailey and Jaye Howard before the season was even halfway through, the time had come for Jones to step up for the Chiefs' defense, and that's exactly what he did.
At 6 feet 5 and 310 pounds with an affinity for getting after opposing quarterbacks, Jones quickly established himself as a fan favorite, not only for what he was able to do on the field, but also for an infectious personality and playful demeanor not normally befitting a man of his size.
The combination of those two things quickly made Jones one of the most popular players on the Chiefs' defense.
In 11 starts and with the second-most snaps played (571) among Chiefs defensive linemen, Jones finished his rookie season with 28 tackles, two sacks and four passes defensed.
In going a step further than that, Jones added 42 quarterback pressures on 368 pass rushing snaps, which gave him a Pro Football Focus "pass rushing productivity" score of 9.4, the best of any 3-4 defensive end in the entire league.
Jones also ranked third among rookie 3-4 defensive ends in run-stop percentage (6.3 percent), which is another PFF stat that helps quantify success for players and positions that don't necessarily rack up basic box score statistics like tackles.
Overall, Jones ranked as the 13th-best interior defensive linemen in the NFL last year, according to PFF.
"He showed some flashes of pass rush ability and we know he can do that," Chiefs defensive line coach Britt Reid explained of Jones. "He's got to do better against the run and then he's got to be more consistent. There's not one specific thing that I would point out. He's doing a great job, he's working hard. One thing about him, he's got a great attitude, he's positive every day and he's willing to work. That's really the biggest thing, he's willing to work. He's not afraid to put in the effort and time."
"I'm familiar with [Jones] from a couple years ago," veteran Bennie Logan said recently. "We trained back in Baton Rouge, so I'm kind of familiar with him. I always tell him every day, 'You really don't understand how scary you can be.' Chris being a young guy and everything, he's got a chance to be something special. I stay on him to push him to peak. He did good things last year, and that's good and everything, but I want him to do better.
"He's a guy who can really establish himself as being a dominant defensive tackle and end in this league if he continues to work hard."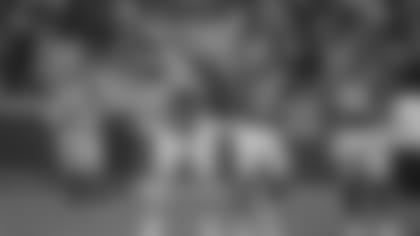 With Howard and Poe moving to other teams this offseason, there's undoubtedly high expectations placed on Jones for his follow-up performance after an impressive rookie campaign.
And with his size and athleticism, the sky is really the limit for Jones at this point.
The Chiefs defense will once again be a strength of this team in 2017, and the havoc Jones creates up front will be a huge storyline for this team this season.