The Kansas City Chiefs could be getting some help in the pass-rushing department.
While the offseason addition of Breeland Speaks—the versatile defensive end and edge rusher out of Ole Miss who was taken with the Chiefs' first pick in the draft, which came in the second round (No. 46 overall), should help things up front—it's the return of outside linebacker Dee Ford from injury that could really mean big things for the Chiefs' defense this season.
Ford, who Chiefs' head coach Andy Reid said should be ready to fully participate by training camp, played in just six games last season because of a back injury and totaled 11 tackles and two sacks.
"It was frustrating, but it's a lesson learned," Ford said at the beginning of the Chiefs' offseason program. "Players have a tendency to try to ride the wheels until they fall off. It really doesn't work that way…the thing that you do is you come back better than ever.
"That's pretty much the only way you handle it."
Ford's "better than ever" might be saying something, because when he's at his best, he's a difference-maker for this defense.
When he was fully healthy, which he's set to be heading into this season, back in 2016, Ford had a six-game stretch where he was virtually unblockable.
Between the beginning of October and mid-November of that year, Ford rattled off nine sacks in six games, and the Chiefs went 5-1 over that stretch. It seemed as if he had turned a corner, and that was the thought heading into last season.
Last year, the Chiefs' defense finished tied with the Oakland Raiders for 24th in the league with just 31 total sacks as a team.
During offseason workouts this year, Ford was a limited participant—going through the individual portions of practices but sitting out of the team periods.
"I can't wait to get back out there and once again show people what I can do," Ford said. "It's been a while, and I'm excited about what this defense can do with all of these parts back coming together, myself included."
"We believe in him and his ability to make a difference when he is fully healthy," Chiefs' general manager Brett Veach said of Ford back at the NFL Scouting Combine.
Three storylines to watch with Ford at training camp:
The biggest test for Ford is going to be once the pads come back on after the first few days of camp and for him to get used to the physicality of the game again. His pass-rushing game is built upon his speed, which shouldn't take long to get back, but it'll be his ability to anchor and hold the edge in the run game that will be key for him.
Can Ford go through camp without any setbacks in his rehab? Reid said he should be ready to go, but camp is a grueling three-week stretch of time.
How long does it take for the first-step quickness to come back? Ford hasn't played football in a while and while speed doesn't generally go away that quickly, particularly for a player who's still relatively young at just 27 years old, what will the rust that'll undoubtedly be there look like? Is it in his counter moves, his initial burst, or his ability to fight off the tackles trying to get their hands on him? Can he still bend the edge and have his core strength allow him to ride the top of his pass rush and turn without just being pushed up the field? It's all stuff to watch at camp.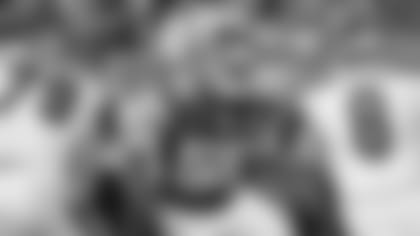 There's no doubt that a healthy Ford transforms the Chiefs' defense with a pass-rushing skillset and a first-step quickness that's arguably the best on the team.
If Ford has a good camp, there's going to be plenty of reason for everyone to feel the Chiefs' defense could take a significant step forward, and Ford would be a big reason why.