His presence on the field simply can't be quantified.
A Pro Bowl selection in each of his five healthy seasons and a three-time All-Pro, he's one of the very best at his position in the NFL.
An unquestioned leader of men, even the most accomplished of veteran players will stop to listen when he speaks.
A relentless fighter, he didn't let a torn ACL, a cancer diagnosis and now an Achilles injury break his tenacious spirit.  
He's Kansas City Chiefs' safety Eric Berry, and he's back.   
"I just want to be the best team that we can be," Berry explained during Organized Team Activities (OTAs) earlier this offseason. "I'm just putting in my work. I know my teammates are dependent on me and I'm dependent on them. It's more of an accountability thing just to handle my business and make sure I'm ready to go just to make sure we can all do what we came here to do."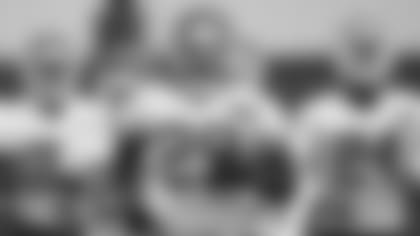 The nine-year veteran will return to the field in 2018 after suffering a ruptured Achilles tendon in Kansas City's season-opening win over the New England Patriots last year. It was a devastating blow to an otherwise euphoric night - ending his season before it could really even begin – but it didn't hinder his dedication to helping Kansas City succeed.
"It was frustrating because I'm a doer, I never really like sitting back and watching, but I just found ways to get involved and help my team," Berry explained. "I think that's what carried over to this year, just seeing that you can make an impact even when you're not playing. You can still be in-tune to the game plan and in-tune to the situations that are happening. I have a lot of experience now, this is my ninth year. There's a lot of guys that are younger than me that can learn from what I know, so even with the young guys, I can provide them with my knowledge because I know it's going to help us as a team."
And now healthy, Berry can deliver those lessons while also serving as an integral part of Kansas City's defense.
"I'm dedicated," Berry said. "I feel like I'm here, this is Kansas City, I play for Kansas City, I'm dedicated to this team and if you're a part of this team, I'm dedicated to you. That's just how I roll."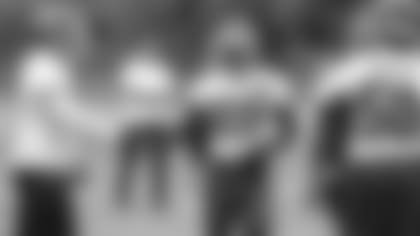 Berry spoke about the energy at practice back during OTAs, explaining how the players feed off of one another.
"Just seeing the faces and seeing the enthusiasm, some days you might not be feeling it but if you look across the ball and see (Patrick Mahomes) or see (Kareem Hunt) or see (Tyreek Hill), they have a lot of energy and they're coming in and they're bringing it and vice versa," Berry said. "If we are bringing it and they're not really up to it at the moment, we just feed off each other and just push through it."
Two Storylines to Follow for Berry at Camp:
How does he look coming back from the injury? If there's anyone who deserves the benefit of the doubt when it comes to returning from an injury, it's Berry. This marks the third time that he's fought his way back to the field following a season-ending condition – including a cancer diagnosis in 2014 – and in each of the previous two times, he's earned a trip to the Pro Bowl upon returning. Berry will look to do the same this season, and that begins on the practice fields in St. Joe.
What can his presence bring to Kansas City's young secondary? The Chiefs feature plenty of new faces in the secondary, notably third-year cornerback Kendall Fuller. Berry spoke about his first impressions of Fuller during OTAs:
"He's come to work," Berry said. "He's dedicated to the sport. Anytime you have anybody dedicated to the game, it's going to be good to work with him. I feel that way about him."
It will be interesting to watch how Berry's unique blend of talent and leadership can affect the play of those around him, from Fuller and newcomer David Amerson to veterans Steve Nelson and Daniel Sorensen.