Eric Fisher is tackling his fifth season with the Kansas City Chiefs.
The offensive tackle, who has played in 62 games (59 starts) at both left and right tackle, was drafted as the club's first-round choice (first overall) in the 2013 draft.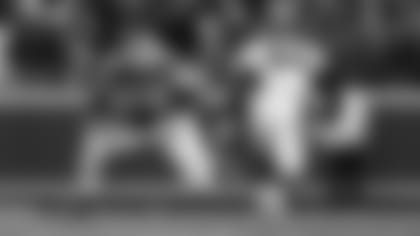 Fisher also became the second player in Central Michigan history to be drafted in the first round, joining San Francisco 49ers Pro Bowl T Joe Staley (No. 28, 2007).
Head Coach Andy Reid discusses Fisher after being named an alternate for the 2017 Pro Bowl.
"He's taken whatever people have thrown at him from the outside and hasn't let that affect him from how he goes about his business," Reid said. "He's still kept his personality … he has kind of a goofy personality and it kind of keeps everybody loose, yet he knows when it's time to crank it up, which is important."
Pro Football Focus gave Fisher the top run-blocking grade for the Chiefs and No. 11 overall in the league with a grade of 82.8.
According to PFF, Fisher helped lead the offensive line with fewest pressures allowed in 2016.
Fisher was also named a Pro Bowl alternate for the first time in his career.
"It's cool to get some recognition," Fisher said. "It's nice to, you know, hear or see that people are seeing what I'm doing."
It's rare for any team to continue to start the same five players along the line year after year, but the Chiefs are set-up to do just that with all five starters returning.
This allows the line to keep focusing on its continuity to provide the team what it needs to move forward.