There's little debate that when Kansas City Chiefs' outside linebacker Justin Houston is healthy, he's one of the very best at getting after the passer in the National Football League.
That was certainly on display last season, as the seven-year veteran tallied 9.5 sacks, 20 quarterback hurries and 16 tackles-for-loss in 15 games of action. His five sacks in the fourth quarter were tied for the fourth-most in the NFL.
And now, a full year removed from rehabbing a knee injury that shortened his 2016 campaign to just five games, Houston is ready attack the upcoming season.
"I'm in great health," said Houston during Organized Team Activities (OTAs) back in May. "I finished the season with no injuries last year and I was able to just focus on myself and not an injury, so that was a plus."
Indeed, Houston is in the midst of a standard offseason in which he can focus on his craft. That includes working with Outside Linebackers' Coach Mike Smith, who was promoted to the newly created position earlier this offseason.
"I think it is great just to have an outside linebackers' coach," Houston said. "There's so much we get to do now just focusing on ourselves and the little things we need to work on. I think last year, we had a lot going on - you had to coach a lot of guys, both inside and out."
"It's hard to (coach the whole group) in the little bit of time we had," Houston said. "Now, we have a separate coach and we can just focus on one thing."
Houston will be spending plenty of time with Smith soon enough as Training Camp is just a week away.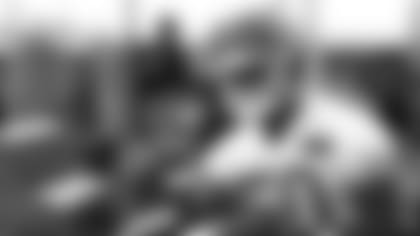 Houston, whose 64 sacks since 2012 are tied for the third-most in the NFL, explained his thought process when lining up against the opposition back during OTAs.
"I want to be able to attack the weakest link," Houston said. "Every team is different. Everybody's left tackle isn't All-Pro and everybody's right tackle isn't All-Pro. Wherever the weakest link, whether it is the guard, center or even tackles, I want to be on the weakest link."
Two Storylines to Follow for Houston at Camp:
What can he gain from working with new Outside Linebackers' Coach Mike Smith? Smith spent three years with the New York Jets – including one as an Outside Linebackers' Coach - working alongside current Chiefs' Defensive Coordinator Bob Sutton from 2010-12. He joined the Chiefs in 2016 as an assistant defensive line coach before earning his new duties this offseason.
"I teach a lot of different things. All of those guys are only going to have two or three moves, but everybody is different. Dee [Ford] is different than Justin [Houston], so we work a lot of different things," Smith explained. "And a lot of those moves tie together to other things, you're chopping, leaning, dipping—it all ties together, but we're working everything."
Smith's technique with Houston and the rest of the outside linebackers will be something to watch at camp.
What kind of pass-rush can Houston and the rest of the Chiefs generate in 2018? The Chiefs are looking for the return of linebacker Dee Ford, who missed much of last season with a back injury, and the addition of rookie edge rusher Breeland Speaks to help out a pass rush that struggled at times in 2017.
Houston was impressed with Speaks during their brief time together at OTAs.
"I think he's very smart," Houston said of Kansas City's second-round pick. "A lot of guys in the NFL struggle switching from defensive end to an outside linebacker, but he's picking up the defense fine and he's looked good in coverage. I think he is going to help us a lot."