It has barely been a year since Kansas City Chiefs cornerback Marcus Peters became a professional football player, but he's already made a name for himself in many circles and in many ways. 
The 2015 NFL Defensive Rookie of the Year burst onto the scene from the very first snap of his career, which resulted in an interception on the road against Brian Hoyer and the Houston Texans.
The word "playmaker" will often describe what Peters brought to the defense last season, but that trait was on display even before that game against the Texans.
From the first day in pads at training camp, to the first snap of his career, to the first home game, to the first playoff game and first Pro Bowl game of his career, Peters had interceptions and pass breakups in each of those instances.
Now he's looking at bringing that same ability to the defense this year.
"It's a new year every year, so you come into it with the same mentality – I want to ball, I want to go out there and make sure my presence is felt on the field," Peters said about following up his impressive rookie season. "I want to make sure I earn respect each and every play, each and every down throughout the whole year.
"I'm just going to take it with the same mentality as last year."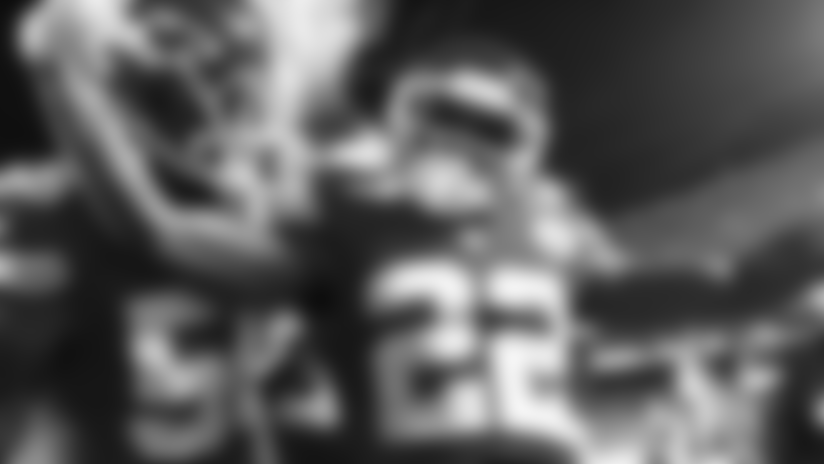 Secondary/Cornerbacks coach Al Harris, who has been a mentor to Peters since he arrived in Kansas City, isn't worried about a sophomore slump.
"One thing about Marcus is that he's extremely passionate," Harris explained. "He's a competitor. He's goal-motivated, which is awesome. So from last year's rookie minicamp, we set goals after that first practice, and this year, we'll set new goals. I don't think he'll get the big head at all. That's not him.
"Just put the goals in front of him, and he's going to do what he has to do to hit them."
There were many memorable moments from Peters' rookie season.
His pick-6 off Denver Broncos quarterback Peyton Manning on Thursday Night Football at Arrowhead Stadium was the perfect welcome for him to show Chiefs Kingdom what he could do in the first home game of the year.
The interception off Minnesota Vikings quarterback Teddy Bridgewater early in the fourth quarter with the team trailing is memorable because of the read he made on the play and the fact that he ran and handed the ball to Chiefs coach Andy Reid afterwards.
Peters broke the franchise record and led the NFL in passes defensed with 26. He finished the season with 8 interceptions, which tied for the NFL lead with then-Cincinnati Bengals safety Reggie Nelson.
With veteran Sean Smith leaving this offseason to join the Oakland Raiders, Peters now has the most snaps played on the outside at cornerback of the returning contributors. He finished second among defensive backs with 1,036 snaps played (Ron Parker, 1,055) last season.
Peters will be counted upon to help lead a young defensive backs room that just welcomed three new additions via the draft last spring.
When asked if he's worried about teams throwing away from him now because of the playmaking ability he put on display last year, Peters says it just opens opportunities.
"If the balls don't come my way, it gives another guy (a chance) to go out there and hopefully be the Defensive Rookie of the Year," Peters said. "We have a whole lot of rookies that we just added in, and we have PG (Phillip Gaines) and Steve Nelson coming back for next year.
"It's going to be a huge year for us."
Looking at the Chiefs Defensive Backs
The Chiefs defense is already getting plenty of respect from national analysts, and Peters' ability to continue to make plays for the third-ranked scoring defense from a year ago will go a long way in the team pushing to get further than they did last season.
"I have to go make some plays for the team so we can win games," Peters added. "No different from last year."
Photo highlights of Marcus Peters