When it comes to the future of the Kansas City Chiefs at inside linebacker, the conversation has to include 24-year-old Reggie Ragland.
The University of Alabama product thrived in Kansas City after coming over in a trade with the Buffalo Bills prior to last season, grading out as the sixth-best inside linebacker in the AFC (and 11th in the NFL as a whole) against the run according to metrics provided by Pro Football Focus.
He looked like the player who won SEC Defensive Player of the Year honors in 2015 and merited an early selection in the second round of the 2016 Draft – which makes it easy to forget that at this time a year ago, Ragland was simply trying to get on the field.
Just days into his first training camp as a professional with Buffalo, Ragland tore his ACL and missed the entirety of what should have been his rookie season. The injury also prevented him from practicing the following offseason, even after arriving in Kansas City last August.
It wasn't until Week 4 that Ragland finally made his professional debut, when he started on Monday Night Football against the Washington Redskins, and not until Week 11 that he played over half of Kansas City's defensive snaps.
It was in that matchup against the New York Giants that Ragland really came into his own, tallying nine tackles (8.0 solo) with a tackle-for-loss. He provided more of the same the following week – against the Bills, no less – with another nine tackles (8.0 solo) and three tackles-for-loss.
Finally healthy, Ragland solidified himself as a player that the Chiefs could count on in the middle of their defense.
And now, heading into his first training camp with Kansas City, Ragland can focus on improving his craft rather than dealing with the complexities of joining a new team so close to the regular season.
"I'm very comfortable now," Ragland explained during the Chiefs' offseason program back in April. "[During] offseason workouts, I've done a lot of stuff to spark explosiveness and I feel like I'm getting my explosiveness back. Then, as far as the defense, I feel like I'm more comfortable now. I'm spitting out the verbiage of it in meetings now, so I'm very comfortable."
That's exciting news as Ragland looks to become a more complete player heading into his second season in the red and gold, especially with the departure of the franchise's all-time leading tackler in linebacker Derrick Johnson earlier this offseason.
"I feel like I'm underrated as a cover guy, but as a three-down guy, you want to be the main guy out there calling everything and you want to get the guys lined up," Ragland explained. "I did it in college and in high school, so for me as a player, I want to be on the field when it's crunch time, and most of the time it's third down when it's crunch time."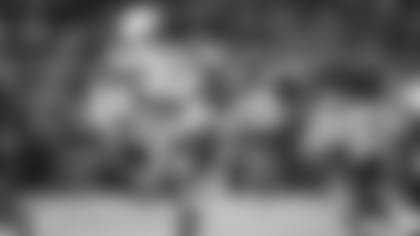 It's that mindset that has Ragland's teammates on defense excited for what's to come.
"I think he's ready to take the next step," defensive lineman Chris Jones said of Ragland. "It should be exciting."
Standing next to Ragland in the middle of the defense this season will be linebacker Anthony Hitchens, who signed with Kansas City after spending the last four seasons with the Dallas Cowboys.
"I've been talking to him for a little minute now," Ragland said of Hitchens back in April. "He's a great guy, a very smart guy. He knows his stuff when it comes to football and I'm very excited to be working with him."
Two Storylines to Follow for Ragland at Camp:
What strides can Ragland make as a player? This will essentially be Ragland's first full training camp as he enters his third season as a professional. His growth last season was nothing short of remarkable considering his untimely injury as a rookie and the lengthy recovery that it demanded, so it's exciting to imagine what he can do with a complete training camp under his belt.
How do Ragland and Hitchens look against the run? The Chiefs struggled against the run last season, especially before Ragland started playing significant snaps on defense. The combination of Ragland and Hitchens, who ranked as the best run-stopping inside linebacker among all free agents last season according to PFF, should form a formidable duo in the interior of Kansas City's defense.