It'll be one of the most talked about training camp stories this year. The Kansas City Chiefs are absolutely loaded at running back.
Not only do they feature the league's reigning rushing champion in 22-year-old second-year player Kareem Hunt, who broke numerous league and franchise records last year in his professional debut, but they also have a stable of other capable and talented guys who have had success at the NFL level.
Spencer Ware, who was injured in the preseason last year, carried the ball 214 times for 921 yards with three touchdowns in 2016 when he took the league by storm with a fantastic six-game stretch where he racked up 777 total yards from scrimmage to begin the season.
Ware missed most of offseason workouts this year as he continues to recover from his knee injury, but he did do some of the individual periods during minicamp.
"It was pretty tough," Ware recently explained of watching and not being able to participate last year. "It was pretty tough because I'm a team player, so I like to do anything my team likes me to do, and I [couldn't] do anything."
"He's chomping at the bit and this drives him crazy," Chiefs' coach Andy Reid said of Ware during the end of offseason workouts. "You know how he's wired. He wants to do everything, every snap, and he just has to make sure he's all right."
"I get here early and he's in here working," quarterback Patrick Mahomes added of Ware. "He's trying to make sure his body is right. He's trying to get back as fast as possible and to see him and the things he does in the indoor when he's working the trainers—he's grinding, and I'm excited for him."
Along with Ware, the Chiefs also boast another veteran with experience in this offense in Charcandrick West, the former undrafted free agent out of Abilene Christian who has carved out a nice niche for himself as a third-down back.
Last year, West carried the ball 18 times for 72 yards and a couple of touchdowns—adding 27 catches for 150 yards and another two touchdowns in the receiving game as well. West has shown in the past that he can carry the load if needed as well, leading the Chiefs in 2015 with 160 carries for 634 yards and four touchdowns.
Joining those two are a couple of offseason free agent signees with experience in former Miami Dolphin Damien Williams, and former Arizona Cardinal Kerwynn Williams.
Damien was signed by the Dolphins as an undrafted free agent in 2014 and went on to play in 58 games over the next four seasons.
Last year, Damien had 46 carries for 181 yards in 11 games before missing time with a shoulder injury.  For his career, he has 85 receptions for 733 yards and six touchdowns to go along with his 133 carries for 477 yards and three touchdowns.
Kerwynn entered the NFL as a seventh-round pick (No. 230 overall) of the Indianapolis Colts in 2013 and appeared in one game that season. He was waived following his rookie campaign and signed with the Arizona Cardinals, where he went on to rush for 971 yards and four touchdowns over his four-year stint with the team.
Williams was nursing a cracked rib when the Cardinals lost Adrian Peterson to a neck injury last December, forcing the five-year veteran into action. He carried the ball 16 times for 97 yards that Sunday, earning the respect of his teammates in the process.
"I love Kerwynn to death," veteran receiver and future NFL Hall of Famer Larry Fitzgerald said after that game. "He's one of my favorite teammates. He's a guy who is always looked over, always trying to be replaced, always drafted over. He never allows that to affect his psyche, never allows that to affect his preparation. He's a wonderful teammate, and any time he has success, I think everybody just loves seeing him do it."
The Chiefs also boast one of the league's best fullbacks in Anthony Sherman, who also serves as a leader on special teams. While his contributions don't always light up a box score, there's little doubt of Sherman's impact when you spend any time around the team.
As far as the young guys go, the Chiefs also have an intriguing young guy to watch in former LSU running back Darrell Williams, who was one of the top available undrafted players this year. He signed a free agent contract with the Chiefs.
"I just felt like it was the best fit for me," Williams said of his decision to sign to the Chiefs. "They've got a great group of running backs here, and I was going to be able to come in and compete for a spot and try to make the team."
Williams, who had his choice of where to sign, specifically cited his relationship with Chiefs' running backs' coach Deland McCullough, which began with a meeting at the Senior Bowl in Mobile, Alabama, last January, as another reason for his decision.
"I've been talking to him since the Senior Bowl," Williams said of his relationship with McCollough. "The bond we have is one of a kind—it's like he's been coaching me for years. It's just been a great experience."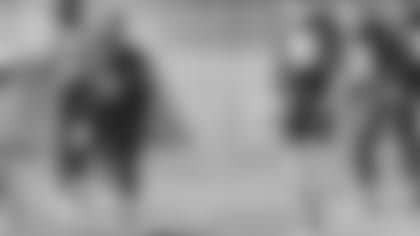 Last year at LSU in his first season with significant action, Williams (5'10", 225 pounds) averaged 5.7 yards per carry after carrying the ball 145 times for 820 yards with nine touchdowns. He had a total of 176 carries in the three previous seasons combined.
He also finished last season with 23 catches out of the backfield for 331 yards (14.4 ypr), which is impressive for a guy that's mainly noted for his abilities as a North and South runner. Williams also became the first player in LSU history to have at least 100 yards rushing and receiving in the same game (Ole Miss).
With a good mix of veterans who have proven capable of excelling at this level, and some young guys with plenty of talent and ability, it's going to be arguably the most interesting and competitive roster group to watch through training camp and the preseason.