There have been a lot of changes to the Kansas City Chiefs' defense this offseason—a lot of new faces who weren't there last year.
It all starts with veteran All-Pro safety Eric Berry, who is one of the team's unquestioned leaders and is back from a season-ending injury suffered early last season. They also return outside linebacker Dee Ford from a back injury that cost him most of last year.
And frankly, both of those stories have been written about a lot this offseason, and for good reason.
There are also the additions of standout cornerback Kendall Fuller, who came over in a trade from the Washington Redskins for quarterback Alex Smith, as well as the free agent signings of cornerback David Amerson and defensive lineman Xavier Williams.
Again, those stories have been written and discussed ad nauseum over the past few months.
Overall, those are five players who are set to make an impact for the defense this year, and on their own, that's almost half of the Chiefs' starting defense right there. That's not including a few rookies who could get into the mix at some point in guys like edge rusher Breeland Speaks, defensive lineman Derrick Nnadi, and perhaps even safety Armani Watts.
But the one offseason move that might be getting overlooked and not getting enough run is the other free agent front seven addition—linebacker Anthony Hitchens, who was considered the top run-stuffing inside linebacker available in free agency this year.
It was one of the first moves of the free agency period and with the 24-hour news cycle moving through things pretty quick, it makes sense that people might forget about it at this point. But they shouldn't because he's going to find himself around the ball quite a bit.
Hitchens, who spent the past four years with the Dallas Cowboys, perfectly fits the mold of what Chiefs' general manager Brett Veach had been looking to add to this defense. Hitchens racked up 162 tackles for the Cowboys over the past two seasons, filling in at multiple linebacking positions when needed.
And it's not like Veach hasn't had his eye on Hitchens for a while. He tried trading for him last year in the preseason.
"I don't think you get better until you develop a mindset," Veach explained of the Chiefs' defense during Hitchens' introductory press conference. "You have to get corners, you have to get pass rushers, defense—we are aware of all that, but it starts with a mindset. And when you turn on the tape and watch [Hitchens] play, he plays with that toughness and that mindset we're looking to build.
"So, when you take the field, that opposing offense knows they are going to be in for a dog fight for four quarters. This is what this guy brings. He leaves it on the field and does everything the right way."
The Chiefs' run defense allowed an average of 118 yards rushing per game last season, which then makes sense that Veach made it a point to go out this offseason and signed Hitchens, as well as Williams, who was considered one of the top run-stuffing nose tackles available in free agency this year.
Hitchens will join third-year player Reggie Ragland in the middle of the Chiefs' defense at inside linebacker. This will be Ragland's first healthy offseason to prepare for an NFL season.
"I think those linebackers will set the tone of the defense," Veach added.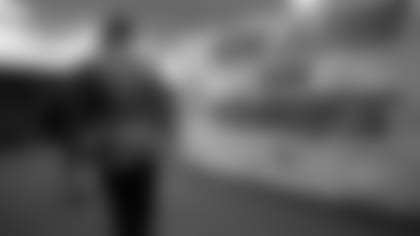 The linebackers room in general will have an entirely different look to it this season after the departures of two of the best in franchise history this offseason in Derrick Johnson and Tamba Hali. Those two guys have led that room for more than a decade and now it's time to look to the future.
"It will definitely be hard to replace those guys," Hitchens, who will play that role vacated by Johnson, explained. "(They've) been around in the league for a while, made a lot of plays. I can just bring my energy and my love for the game. Whatever coaches need me to do—guys can look at me knowing I will do the right thing on and off the field and just lead in the best way I know how to lead."
"You are replacing a guy in [Johnson] who every day came out and practiced like he was 20 years old," Chiefs' coach Andy Reid added. "That's how he went about his business. And he is a good guy on and off the field. That was one of [Veach's] objectives—to bring in guys that were quality people and leaders.
"Not only did [Hitchens] do it at the college level, but I'm sure you read the tweets from his teammates in Dallas and how they spoke of him and how they will miss him there. This guy is a tremendous human being and a tremendous player. Veach is trying to bring that into our football team now."
Hitchens is fast, instinctive, and brings an edge to his game that's manifested by an unwillingness to let opposing teams run on him and his defenses, and that's going to be evident when the pads come on at training camp, where he and his teammates will get to see the league's reigning rushing champion every day in second-year player Kareem Hunt.
It's going to be must-watch stuff.