"Just continue to study film and be humble, and I'll be good."
That's the message Kansas City Chiefs second-year playmaker Tyreek Hill shared with the media during OTAs earlier this summer.
Hill, the 2016 fifth-round pick who was named a unanimous All-Pro returner last year as a rookie, didn't waste any time this offseason getting ready for his follow-up performance.
Hill stayed in Kansas City over the offseason—training daily with the other receivers who also stayed in town. His focus was on improving his footwork, route-running and knowledge of the playbook.
"I don't want to just be this fast guy on the field," Hill explained of his decision to stay in Kansas City over the offseason. "I've just been here grinding."
And it's showed. Hill made his debut this offseason on the "NFL Top 100" as the league's 36th best player.
NFL Media senior analyst and longtime NFL personnel man Gil Brandt had Hill listed on his 2016 All-Rookie Team.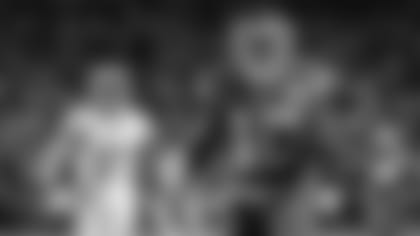 Here's what Brandt had to say about him: 
"Hill might be the quickest and fastest player in the NFL right now. He showed himself to be a threat to score in multiple ways, whether in the return game (two punts and one kick returned for touchdowns), as a receiver (six touchdowns) or running out of the backfield (three). He earned a first-team All-Pro nod as a punt returner and will only get better as a receiver as he gains experience."
In his rookie season, Hill compiled 61 receptions for 593 yards receiving and six touchdowns, 24 rushes for 267 yards and three touchdowns, two punt returns for touchdowns and one kickoff-return touchdown. He also led the league by averaging 15.2 yards per punt return, and by forcing 30 missed tackles on returns last year.
But perhaps the most impressive statistic that properly illustrates the playmaking ability that Hill brought to the NFL last year was his average yards per play on touchdowns scored.
It's a number that seems right out of a video game.
Overall, there were 13 players in the league last year who scored at least 12 touchdowns, and Hill, who tied for seventh-most by scoring 12 in total (six receiving, three rushing, three returning), led the NFL by averaging an astonishing 44.2 yards per touchdown.
Standing at just 5 feet 10 and 185 pounds, there are those who doubt Hill's ability to handle everything that comes with potentially being a team's top target.
It's not something the fastest player in the NFL is worried about.
"It's all about what's in your heart," Hill explained. "Steve Smith—same height as me and he's a dog on the field—so size doesn't really mean anything to me. I just go out there and ball and do my job."