We're one week into the 2014 league year, which has included additions to the Kansas City Chiefs roster. While the team signed S Husain Abdullah and LB Frank Zombo to return to the club, LB Joe Mays, OL Jeffrey Linkenbach and DT Vance Walker recently became first-time Chiefs. During a conference call on Tuesday, Chiefs general manager John Dorsey addressed reporters, covering topics such as the team's recent free agency moves, thoughts on the 2014 draft class and much, more.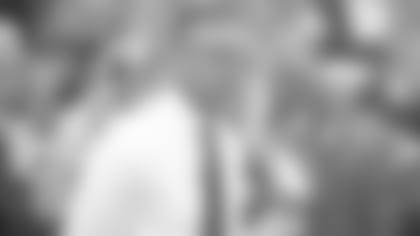 Q: Can you give us a sense of what the roles are going to be for some of the new guys?
DORSEY: "I think the roles can be determined by the coaches as we go into the OTA's and the minicamps and into regular training camps. What I liked is I liked how they played on film, and I thought that they would help contribute and add some depth to this roster that we always talk about. I think they're very fine football players, and I'm excited to see them as a Kansas City Chief."
Q: Did you feel like you had an agreement with Emmanuel Sanders?
DORSEY: "I don't know about all of that. During the free agency stuff, anything can happen. You know what, I was interested in a player and at the end of the day the player and agent decided to go to Denver. I'm one of those guys, it's kind of like the Vance Walker deal, that deal was put to bed and you don't look in the rearview mirror. We have to move forward and build this organization. That's kind of where we are with this, and I'm moving forward to the next project."
Q: Where does that leave you at wide receiver now?
DORSEY: "This is just really the middle part of the second week of free agency; there are still players out there. What I like to do is, in this draft, this draft is very deep in terms of wide receivers with skills. We always talk about (how) we're going to turn over every rock possible as we move forward here and that's kind of part of the process right now. As this plan moves forward, we're going to continue to add competitive depth to our roster and that's what we do every day. We come in here and we try to find the best possible players we can."
Q: When did you have a sense that the guys who were picked up early in free agency weren't going to be Chiefs for very much longer?
DORSEY: "Nobody ever wants to lose good football players, and I wish all of those guys the best, because not only did they help the Chiefs (by) contributing in 2013, but they're good guys too. That's free agency. I think every team loses players as we go in the free agency period, and good teams, respectably, lose players. Maybe it's a sign of what we're building here. As we move forward here, we'll begin to finish those components and go to the next stage."
Q: Have you been through something like the Emmanuel Sanders thing before, where you had something going and it fell through?
DORSEY: "As I told you guys a long time ago, when we do negotiations, I really don't talk about the negotiation stuff outside of the building. Really that's it, we move on and that's kind of what I've done. I've kind of put it in the rearview mirror and I've moved forward."
Q: It seems like Denver is signing everybody. How can they sign all of these people? Are they going to be in trouble with cap down the line?
DORSEY: "Well, I can't speak for another team's players or their cap situations. All I know is Clark Hunt gives me every resource possible and that's all I can ask for."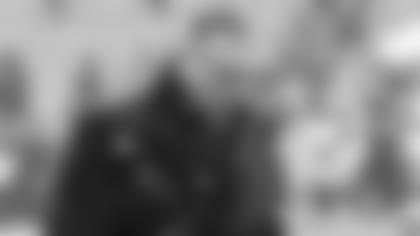 Q: Where are you on the contract talks with Alex Smith and Justin Houston?
DORSEY: "That's an ongoing process as we speak and we've had communication with his representatives. That's kind of where we are."
Q: Could you see Sanders Commings or Husain Abdullah playing at the open free safety spot?
DORSEY: "Yeah, I could envision that. One of the reasons why we drafted Sanders Commings was because we thought he fit that positional skill. I can see Husain and those guys competing. Then, there are some guys within this draft that can help you contribute as well."
Q: How much was Joe Mays used in nickel? Is that a guy who can cover tight ends at all?
DORSEY: "I think every defensive scheme puts players in unique football positions. The one thing that you guys will love about Joe Mays is that he is a real football player. He's mature. He's a very good communicator. He'll be able to play equally the run and the pass to a certain degree. I think when it's all said and done, you guys will like Joe Mays."
Q: On film what did you see from Vance Walker as a pass rusher?
DORSEY: "There are some unique features that our defensive linemen use and I felt that some of his strengths actually helped us as a defensive line. He can play the run; he can hold up the point of attack, but what's nice about him is he gives you a little extra dimension in terms of the inside pass rush stuff that you need in the National Football League today. I'm very excited to have Vance (Walker) and again there's another person, when we talk about character, that's a man of high character."
Q: What will the starting left tackle situation be? Will Donald Stephenson or Eric Fisher be starting?
DORSEY: "Well, I think both of those two guys are good football players, and whatever they can do to help contribute to this team, their role is to do that. I think at the end of the day the coaching staff will put the best five offensive linemen out there for what's good for the Kansas City Chiefs. That's kind of where I see those guys positioning. At the end of the day, the coach is going to align the players where he feels helps us get the winning edge."
Q: Are there some other guys like Rishaw Johnson that you'll be looking to fill the offensive line with?
DORSEY: "Yeah, I think that's fair. We're going to create a competitive atmosphere here, and I think when those guys had the chance to compete in the last game of the regular season, they showed that they were willing to compete and they held their own against a playoff caliber team."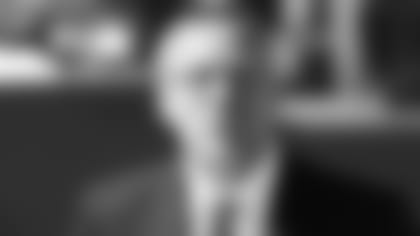 Q: How helpful was the Week 17 game, when you were able to see some of the players that didn't see as much play time?
DORSEY: "That's a good question. Anytime you can get another opportunity to evaluate the players that don't get to contribute on a week-in, week-out basis, that's very helpful. What it does is it helps the coaching staff get a degree of comfort that those guys in the personnel department as they build this thing; that's what the communication between the coaches and the personnel staff does. It's always an advantage to get those guys to play and those guys showed very well on Week 17 of the NFL schedule."
Q: What do you see in Mike Catapano and Rishaw Johnson?
DORSEY: "He's been in the facility, with regards to (Mike) Catapano, he's been here day in and day out. He's been working his butt off. The guy is driven. He's one of those relentless warriors you want on your team. I'm excited to see him contribute as we go forward here in the second season for him. I've always said all along that those guys make the greatest strides in year one to year two, and I can see great strides coming from Catapano. With regards to Rishaw (Johnson), he's going to come in here and he's going to compete. He's showed that he can play the game of football and I'm just excited to see how much stride he has made here this year."
Q: How aggressive will you be in picking up extra picks this year?
DORSEY: "Well, my phone is always open, if you want to tell those guys if they want to trade up or down, just give me a call. You know what; you have to do everything within your power to see if you can do things. Rest assured that I will try to do everything I can to move up (or) move down if I feel like it's time to pull the trigger and go up and get a player, or pull the trigger to move down to get a player, I will use every resource available to me."
Q: Is there a common characteristic between the three guys you signed that was needed on this roster?
DORSEY: "They're good football players, who happen to be good men. All along we've said we'd like to have men of character, men who are committed to the game of football. Those are guys that you want on your football team.  At the end of the day, you guys are going to like these guys."
Q: Are you in a good spot salary cap-wise and where are you in comparison to when you first got to Kansas City?
DORSEY: "We're in a good position, right now. It gives us some flexibility to do a few things if we have to and it gives us flexibility to acquire some more players if we have to, but I think we're in a good space right now. We're in a good place."
Q: You haven't been quite as aggressive in free agency this year. Was last year uncommon with how aggressive you were in free agency?
DORSEY: "I'm going to do it the Chiefs way and the Chiefs way, as we said all along, is we're going to be selective in free agency and we're going to build a foundation through the draft and that's kind of how we're going to do this thing."
Q: Do you feel like you're playing catch up with Denver in the free agency period?
DORSEY: "Not really. Not really at all. Really, it's just midway through the second week of free agency and there are still a lot of players out there. We're going to find some players to help us move forward."
Q: What role do you see for Weston Dressler?
DORSEY: "He's going to be allowed to compete as a slot receiver. He's going to be allowed to compete on special teams. What he'll do is once the coaches get a good feel for him and they get comfortable with him, then he'll determine and distinguish his role within this team."