ST. JOSEPH, Mo. (AP) - The moment when Chiefs quarterback Alex Smith will no longer discuss his contract situation is rapidly approaching, even though he makes it seem as if the deadline has already passed.
Sure, Smith politely answers every question about his uncertain future, but he also makes it clear that he would rather not.
The Chiefs have been talking to his representatives for months about a contract extension, but the sides remain far apart in their negotiations.
''You're getting to the point where either way, you want it to stop being a distraction,'' Smith said after practice Wednesday. ''You guys know how I feel about this and it's the truth, yeah, you get to the point - and I'm there - where you finally cross the line and it's just football from here on out. I'm done talking about it, behind the scenes as well.''
Asked whether he has a specific deadline for breaking off talks, Smith replied: ''No hard line, yeah, but at some point mentally it'll come to me. `It's over. Let's just focus on the season.'''
Smith is due to make $7.5 million this season, the final year of the contract he signed with San Francisco.
And most suspect he'll land an extension similar to what Colin Kaepernick received from the 49ers - six years, $126 million with $61 million guaranteed - after helping the Chiefs to bounce back from two wins before his arrival to an 11-5 record and the playoffs.
''There's communication going on,'' Chiefs coach Andy Reid said simply. ''Alex is a good football player and he's great for this football team. We're lucky to have him here.''
Beyond that, there wasn't a whole lot Reid was willing to divulge. He's no longer involved in most of the contract talks, as he was in Philadelphia, deferring instead to Chiefs general manager John Dorsey - who has likewise danced around the subject of Smith's contract.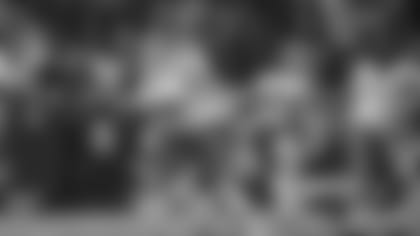 ''They're working through it and we'll see,'' Reid said. ''These things take time. You know how the game goes. Alex isn't worried about it and I'm not worried about it. We just go play.''
Turns out that's something Smith did marvelously last season.
After losing his job to Kaepernick in San Francisco, and getting shipped to Kansas City for a pair of draft picks, he proved to everyone he still has plenty of ability.
Smith threw for a career-best 3,313 yards and 23 touchdowns with only seven interceptions, even while skipping the regular-season finale with nothing on the line.
While all those numbers are impressive, even more impressive is his won-loss record. Smith is 30-9-1 as a starter the past three seasons, trailing only Tom Brady, Aaron Rodgers and Drew Brees in victories among quarterbacks with at least 30 starts. Smith has also thrown just 17 picks over that span, and his quarterback rating of 92.5 is far above the league average.
''He's definitely peaking and rising,'' Chiefs wide receiver Dwayne Bowe said. ''Definitely leading this offense and making tremendous strides on delivering the ball and putting it where it needs to go, and that's all you can ask as a receiver from the quarterback.''
That's why the Chiefs are so eager to have him around for a while.
In the span of 18 months, Smith has gone from the quarterback that the 49ers considered an after-thought to the one Kansas City is building around. Heady times for the former No. 1 overall draft pick, even though he would never allow himself to acknowledge it.
''I've got a year left and I'm planning on playing it. It doesn't change anything either way for me,'' he said of his contract situation. ''I've got some football ahead of me. I'm focused on that and I'm trying to get ready for the Titans (in the season opener). That's just the way I feel about things and the way it needs to be done. There's no more time to be bothered by distractions.''
Notes: Oft-injured S Sanders Commings was carted off the practice field after getting juked to the ground by RB Jamaal Charles. A team spokesman said Commings hurt his right ankle. ... RT Donald Stephenson (left ankle) returned to practice after missing Monday's workout. ''I got back faster than I thought and I'm proud of it,'' he said. ... DL Mike Catapano (illness) missed practice.