A very rainy day made for a long but very productive Chiefs practice during day three of training camp on Monday.
Once the team warm-ups were completed, followed by the position-group work, the ones, twos and threes on offense took reps and then 11-on-11 began. Like Sunday, Monday's practice was just as competitive, seeing great plays from both sides.
Chiefs QB Alex Smith gave the ball to Chiefs RB Jamaal Charles on several carries, to the left and right and utilized his FB Anthony Sherman, as well as other targets like TE Tony Moeaki and WR Jon Baldwin, among others.
Some of the bigger offensive plays came from new Chiefs WR Donnie Avery, who made multiple acrobatic catches during the rainy workout.
"Whenever you're number is called, you have to step up and make plays," Avery said. "Whatever the weather or any condition, you still have to make plays."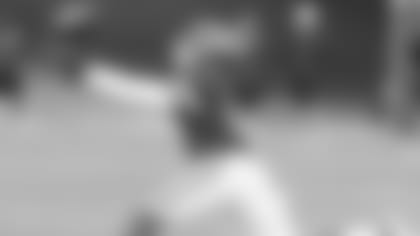 I asked Avery about two questionable catches, wondering if he was in-bounds.
"I'll let the ref be the judge of that," Avery said, adding "as long as it was a completion."
Also having productive days on offense were Chiefs RBs Knile Davis, Shaun Draughn and Cyrus Gray.
Davis ran strong and instead of his success on the ground, he wanted to talk about something else.
"I didn't have any drops today," Davis said. "I came in and wanted to have zero drops and that was one thing I've been working on and I did that."
As for Gray and Draughn, both continue to show quickness laterally and good explosion. Draughn gave me one adjective to describe today's "Live" period, when tackling was allowed.
"Physical," Draughn said. "Physical."
Chiefs TE Kevin Brock had multiple big-plays during practice, coming from throws by Chiefs QB Chase Daniel.
"Coach Reid does a great job of giving us the details that we miss on every play," Brock said. "I just made sure I didn't make the same mistake twice and the play came up again and it was my turn, I capitalized on it."
Meanwhile, later on in practice, the Chiefs defense turned things up and began forcing pressure up-front. One of the players embracing the responsibility of causing havoc at the line is new Chiefs DE Mike DeVito, who evaluated the play of his fellow linemen.
"I think guys are doing really well," DeVito stated. "We're picking up the defense fast; this defense has a lot to it. I think guys are really learning it quick, which is good because the second you get it down, you can play at a high level. I think guys are learning and putting in the work, it's been good."
Chiefs defensive coordinator Bob Sutton's secondary again made plays throughout the day, including DB Kendrick Lewis, who recorded an INT, as well as pass breakup during the rainy, morning practice.
"I was just communicating," Lewis said. "Doing what I could do to make it a better practice, make it a good day. It's progress. I can't give you a stamp of approval until we watch the film, but I can tell you that we're taking steps at getting better every day. Every day we go out and work on something, compete and try to get better every day."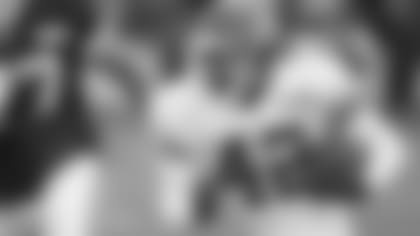 Also grabbing an INT was Chiefs rookie Otha Foster III, who took it back the other way for six, saying later about the Ricky Stanzi pass, "The QB threw it high and I was gone."
As practice continued and the rain later picked up, the crosswind that was blowing appeared to have enough strength to possibly alter some throws by the Chiefs QBs; Tyler Bray assured me, that wasn't the case.
"No," Bray said. "If you throw a spiral, which our guys do, it doesn't affect it."
Bray also went on to describe the collective work all four QBs have been doing.
"Our QB group, we're learning every day," Bray said. "Guys know a majority of the stuff, if not all of it and we're just working to get better, on things like our footwork, planting and throwing. We're just working on our fundamentals and trying to get better."
The practice ended with some special teams work, led by Chiefs special team's coordinator Dave Toub and assistant Kevin O'Dea. Toub addressed the media following practice and assessed the team's first few days of camp.
"It's a beginning," Toub said. "This whole thing is a process, and we're at the beginning stages of this and really evaluating a lot of the guys. This is the first time we've gotten into pads the last couple of days. We really have learned a lot about them these last couple of days. We still have a long way to go; it's just the beginning."
Speaking of special teams, Chiefs WR Dexter McCluster was back returning punts as the rain fell. Watching Dex take off and with the rain pouring down, I instantly thought back to 2010, when in his rookie season, he returned a 94-yard punt for a score against the Chargers. I know all Chiefs fans remember that electric moment on Monday Night Football.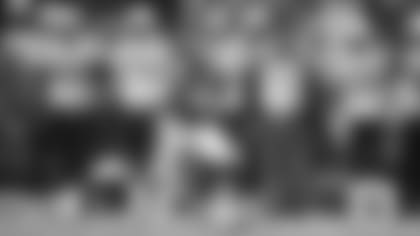 He told me after practice that he thought about the same thing, when he saw the rain. McCluster said the punt-return score was like a dream that he awoke from as soon as  he hit the end zone. I asked him if he has plans to entertain Chiefs fans with runs like that again in 2013;"You know it," McCluster replied.
McCluster has been all over the field in training camp, running, catching and fielding punts. Coach Toub was asked about any possible concern of asking McCluster to play on both offense and special teams.
"No," coach Toub said. "That's one of the things I talked to Andy about when I first got here. I told him that I thought Dexter is our best punt returner, looking at them all right now, and he (Reid) feels that Dexter will be our punt returner, if he is our best guy. He's going to be the guy. Dexter is really buying into it and he wants to be that guy. We want to take advantage of that."
The team has meetings tonight and will continue with practice Tuesday morning, when the forecast calls for more rain, which again, won't deter the Chiefs.