There were tons of things happening at Arrowhead Stadium on Sunday, including the start of a new tradition, the pregame parade. The parade features Chiefs Cheerleaders, Warpaint, Rumble and the Red Coaters. The group begins at the Hy-Vee Gate and travels on Lancer Lane to Gate F, through the Hall of Honor presented by Time Warner Cable and then ends at Gate D.
To start the game, world-renowned singer Ronan Tynan performed the national anthem. Tynan has an incredible story; he has 18 gold medals from the Paralympics, became the first disabled person to ever be admitted to the National College of Physical Education, performed at the funeral of President Ronald Reagan in 2004 and is a world-renowned singer. READ MORE.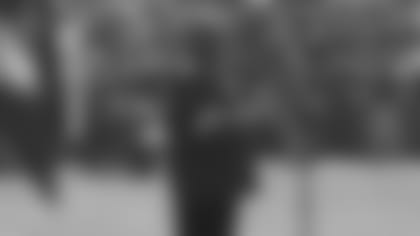 Following Tynan's performance, Pro Football Hall of Famer Willie Lanier led Chiefs fans in the drum ceremony and the Chop.
"I always enjoy the beginning of the games at Arrowhead, with the national anthem, Warpaint running out and the fans cheering, it's great," Lanier said. "It's a great opportunity to be back and to be on the field, you can sense the excitement from the fans. There is a unique spirit at Arrowhead Stadium, all these fans are in their red and love their team."
During the third quarter, the Chiefs honored Kaytee Jones, through the Stars of the Classroom program. Jones is currently a first grade teacher at Shepard Boulevard Elementary School where she is known for her passion for teaching and team player approach.
Jones and her husband, Nathan, are die-hard Chiefs fans and were thrilled to be honored at Arrowhead. The couple received two lower level tickets to the game, two pre-game field passes and were recognized on the ArrowVision screens in stadium.
"I was very excited when the Chiefs called me to tell me about this opportunity," Jones said. "I've been teaching for six years and this is such an honor. My husband and I are huge Chiefs fans, so it was awesome being recognized by the team and being down on the field before the game."
Sunday was also the first day that the new Kingdom Ale was available at Arrowhead Stadium and it was a huge success. The next time you visit Arrowhead, be sure to try the new ale.
At the Ford Fan Experience, fans were able to use the Share A Coke kiosk, which allows fans to print their name or the name of a loved one on a can of Coke. KC Wolf got two cans for himself.
Thanks Chiefs fans for joining us at Arrowhead Stadium on Sunday!