As a whole, the 2013 NFL Draft class hasn't had the same kind of success that we've seen from the other classes over the past few years.
In terms of just Pro Bowlers, the 2014 draft class has already had twice as many players (10) named to multiple Pro Bowls than the 2013 class (five).
That said, there have still been a few players out of that 2013 class who have proven to be among the best in the league at their respective positions.
One of those is Kansas City Chiefs tight end Travis Kelce, who was selected by Chiefs general manager John Dorsey in the third round (No. 63 overall) out of the University of Cincinnati.
This was Dorsey's first draft as general manager of the Chiefs.
Kelce has twice been named a Pro Bowler (2015-16) and last year was named a first-team All-Pro for the first time in his career.
Only five players taken in the 2013 NFL Draft have been named an All-Pro at any point in their careers, and of the five, only Arizona Cardinals defensive back Tyrann Mathieu was selected later than Kelce in the draft—coming six spots later at No. 69 overall.
After missing most of his rookie season because of a knee injury, Kelce has played in 48 games over the past three years—catching 224 passes for 2,862 yards and 14 touchdowns.
Kelce is one of just two players selected by the Chiefs that year who is still with the team.
In fact, only four of the top 12 overall picks in that draft are still with the team that originally selected them.
One of those players is Chiefs left tackle Eric Fisher, who was selected No. 1 overall out of Central Michigan.
Fisher, who signed a multi-year contract extension with the Chiefs before last season, has played in 62 career regular-season games for the Chiefs over the past four years. He's one of just 22 players drafted that year (out of 256 total) who can say they've played in that many games at this point.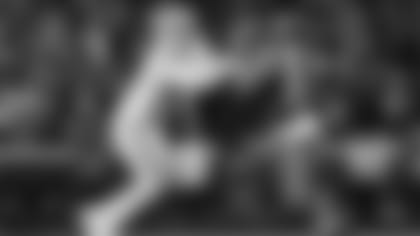 While many people might only remember Fisher right now for the *questionable *holding call at the end of the playoff game against the Pittsburgh Steelers, the truth is he's developed into an above-average left tackle and has helped solidify a young and talented offensive line in Kansas City.
So, between Fisher and Kelce, Dorsey was able to grab two key members of the Chiefs offense in the 2013 NFL Draft who have already signed contract extensions to stay with the Chiefs for the foreseeable future.