Day one of the Kansas City Chiefs rookie minicamp is in the books and afterwards, Chiefs head coach Andy Reid wasted no time in addressing the media.
"We don't really have any injuries to talk about, but we do have a lot of good, young players out here that are trying to make this football team," coach Reid said. "You saw where we put Eric Fisher at the right tackle spot. We worked him in there, which was good. We had some great talks with Branden Albert and he'll be in here on Monday. Branden will play the left side, and Eric is going to play the right side. I think that gives you two pretty good bookends right there. We also know we have Donald Stephenson, who is also a good football player. We have a good offensive line, and you know how I feel about that. It starts there. I thought Eric came out and did a nice job. He really looked like he felt comfortable there. It was new for him, but he stepped right in and had a heck of a day. Again, we look forward to getting everybody up there. At the end of the OTAs, we'll have a final minicamp to put the rest of them together."
As for the team's top pick, Eric Fisher wasn't caught off guard by the team's decision to put him at right tackle.
"No, it didn't really surprise me," Fisher said. "I kind of expected it. [Branden] Albert's a great tackle – somebody I'll be able to learn from. So I'm really looking forward to getting through this rookie camp and then learning from the veterans and just improving my game every day."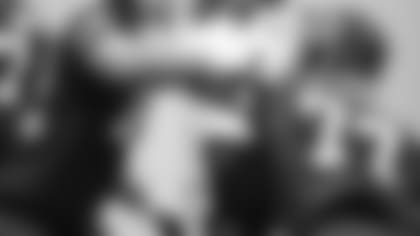 Fisher, who is playing at RT for the first time since his sophomore year at Central Michigan, is more passionate about playing football rather than where he plays on the line.
"I'm just trying to play offensive line," Fisher said. "I really love everything that comes along with it – it's a different territory in there. I'm really liking it. It's a very similar system to what I ran in college so like I said, I'm picking it up pretty well."
As for some of the other draft picks, coach Reid was asked if third-round pick TE Travis Kelce could earn playing time early on.
"Tight ends and running backs, they've got a lot they have to learn," coach Reid said. "He's a sharp kid and willing to work. He wants to do the right things. We threw a ton at him today with motions and shifts and different routes and different blocking schemes. He seemed to handle it pretty good."
Kelce talked after practice about what he brings to the Chiefs.
"I like to think I have a versatile game," Kelce said. "I can do just about anything on the field, of course, practice makes perfect and depending on what they need me to do in this offense, I'll do it every single day in practice; I'll get better at it and I'll perfect my craft."
I asked the team's other third-round pick, RB Knile Davis what surprised him most from day one.
"Just the speed, everybody's moving fast," Davis admitted. "Everybody's trying to get a job, so everybody's moving, but I adjusted to it. I think I did pretty good, made a few mistakes; I didn't know everything but for the most part, I think I did pretty good."
One of the best quotes from day one came from Davis, who when asked 'What Knile Davis are fans going to see this season, will they get the 2010 Knile Davis (when he rushed for 1,322 yards)?'
"I'm going to give them 2010 (results) and better," Davis responded.
I caught up with another of the Chiefs draft picks, LB Nico Johnson and asked him to grade his day-one performance.
"I'd say probably about a B average," Johnson told me. "It's the same thing for me as we ran in college; the terminology is different but by the end of practice I felt good, more confident than when I started. Tomorrow is going to be a better day for me." One of the Chiefs undrafted college free agents, QB Tyler Bray signed a contract with the club Friday and plans to learn as much as he can from the team's starting QB, Alex Smith.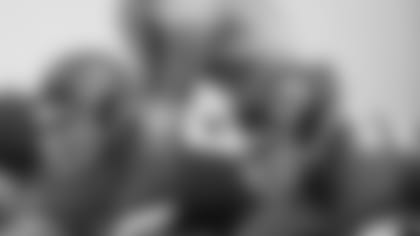 "Every rookie in the draft has got to prove something," Bray said. "We all knew we weren't going to come in and start. I'm coming in to battle, I'm going to try to learn from Alex [Smith], he's a veteran quarterback, and I'm going to try to learn a lot from him."
One of the standouts from the tryout players was DB Durrell Givens (Iowa State), who recorded two INTs on the day.
"I felt good," Givens said. "It's always good to get back on the field and being at the Chiefs, such a storied organization, it makes you want to play harder; I'm just flying around trying to make some plays."
I asked Durrell to describe his two INTs and he immediately laughed and responded.
"Flying around, making plays," Givens said. "See ball, get ball; just trying to be where I'm supposed to be and then making a play on the ball."
Givens and the rest of the rookies will look to make more plays, during tomorrow's day two of the three-day camp, ideally hoping to earn a future spot on the team's 53-man roster.
Stay tuned for more coverage of rookie minicamp on Saturday, when we'll hear from more of the Chiefs draft picks, tryout players and more.