Rookie safety Armani Watts has always had a nose for the ball.
It's an ability he displayed often – 16 times, as a matter of fact – while at Texas A&M, and now as a member of the Kansas City Chiefs' secondary, that knack for the big play was on display once again in Thursday night's preseason victory over the Green Bay Packers.
The 22-year-old Watts, who the Chiefs selected in the fourth round of the 2018 Draft, tallied two interceptions on the night in what wrapped up into an impressive showing for the rookie safety.
"I was in the right place at the right time on a couple of those throws, and that's what we preach on tips and overthrows," Watts said. "You just need to make the play when it comes to you."
He did exactly that on just the third play of the game, as Packers' quarterback DeShone Kizer overthrew his intended target and a diving Watts was right there to take advantage.
The Chiefs turned the takeaway into points nine plays later, parlaying the rookie's playmaking instincts into an early lead.
With the Chiefs clinging to a two-point lead late in the third quarter, Packers' quarterback Tim Boyle sailed a throw deep down the field right into the outstretched arms of Watts, who completed an over-the-shoulder grab for his second pick of the night.
It was a strong performance for any player – let alone a rookie – and it caught the attention of Head Coach Andy Reid.
"He had a big night," Reid said following the game. "That's what you saw at Texas A&M – he's an instinctive player. It's just a matter of him playing more and you'll see a different player each week in a positive way I think. He was an instinctive player when he first came out, and the more he's played the defense, the better he's gotten."
Indeed, Watts exhibited an aptitude for taking the ball away over the course of his four-year career with the Aggies.
He tallied a game-sealing interception in overtime against Arkansas last season and had a two-takeaway performance in a close win over Tennessee in 2016, to name a few, and now he's committed to delivering more of the same as a professional.
"I'm just showing what I'm capable of doing," Watts explained. "I'm big on getting the ball back to the offense, and to be able to do it at the next level is a big for me…it was just so much fun to finally get a pick in the NFL. It was a dream come true."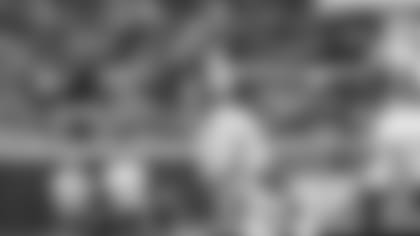 A dream that fellow rookie defensive back Tremon Smith has watched unfold from the very beginning.
"That's my dawg, man. We roomed together at training camp, so we grew together, learned the playbook together and played the game together," Smith said. "I just want to see every guy in our [defensive back] room do well. It's so exciting."
And while only a preseason game, Watts' performance still carried with it a sense of accomplishment in the eyes of his teammates.
"It's fun to see the work [the young players] put in during the week and then for them to go out there and make plays on a night like this," said cornerback Kendall Fuller. "Any time we can sit back and watch them have fun out there is fun for [the veterans]."
It's fitting, then, that Watts was doing just the same.
"I'm just having fun out there," Watts said. "That's what I was doing out there today – I was having fun – and you make plays when you do that."