In the midst of the Kansas City Chiefs' most memorable draft in recent memory, one that included the selection of their first first-round quarterback in 34 years, the organization also made four trades.
Three happened during the draft itself, while one happened the morning of day three—about 20 minutes before the fourth round began, the Chiefs sent tight end James O'Shaughnessy and the 216th overall pick to the New England Patriots in exchange for the 183rd overall pick, with which they would select Georgia Southern linebacker Ukeme Eligwe in the fifth round.
For Eligwe, it likely meant coming to Kansas City instead of elsewhere.
For players already on the team, like third-year tight end Ross Travis, it meant a bittersweet opportunity.
"That's my brother," Travis said of O'Shaughnessy. "He's going to make the most of that situation over there. I know he's excited about the new opportunity and stuff. As far as me, it's just an opportunity, and I just have to take advantage of it."
The Chiefs signed the 6-foot-7, 235-pounder out of Penn State back in 2015. Travis played basketball at Penn State and hadn't played football since high school, but like in the case of Demetrius Harris, the Chiefs saw something in his athletic ability and placed him on the roster.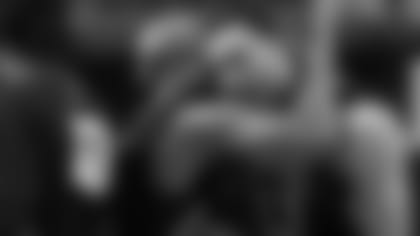 "The goal in basketball was to be as great as I could be," he said. "Now the plan for football is to be as great as I could be. I want to leave a good legacy."
That "legacy" began its course last year when Travis earned a spot on the 53-man roster out of 2016 training camp.
Travis was the team's third tight end to start the season, but after the Week 5 bye, his snaps began to go to the now-traded O'Shaughnessy. With O'Shaughnessy moving on to the Patriots, there is now a vacant spot in an Andy Reid offense that loves multiple tight end sets.
"With him leaving, spots open up and stuff," he said. "I know it's an opportunity and I have to take advantage of it. [The coaching staff] is not going to pull you aside or anything and be like, there's a vacancy in this spot. They're going to make you work for it."
Travis is right. In the spirit of something general manager John Dorsey constantly preaches, there is much competition at the tight end spot heading into training camp.
Of course, there's Travis Kelce, who has become a pseudo-mentor for Travis, in addition to Harris, rookie Emanuel Byrd and a five-year veteran in Gavin Escobar.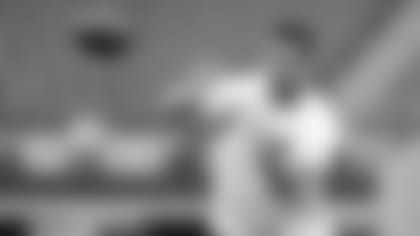 The Dallas Cowboys actually selected Escobar in the second round of the 2013 NFL Draft, one round before the Chiefs took Kelce. Escobar has played in 62 career games with seven starts, compiling more than 300 yards receiving and eight touchdowns.
What Travis, who has played in just six career games, believes he has on his side entering camp is having been able to learn from someone who has proven to be one of the best tight ends in the NFL.
"I owe a lot to that dude," Travis said of Kelce. "He took me under his wing. He's like my older brother. He takes care of me off the field, helps me out with stuff on the field. He's constantly helping me improve my game because he sees something in me, and he's been the best mentor I could ask for."
Last year, Travis saw the field for 44 snaps, while he watched O'Shaughnessy take 111.
Where that playing time goes now will be a point to examine as the season draws nearer.