*Reese's Senior Bowl week continued in Mobile, Alabama, with practices on Thursday. The week leads up to the Senior Bowl, which airs from Ladd-Peebles Stadium at 1:30 p.m. CT this Saturday on the NFL Network. *1. There were some injury updates and changes leading up to Saturday's game
Lost: Massachusetts wide receiver Tajae Sharpe (ankle); Rutgers wide receiver Leonte Carroo (quad)
Added: Illinois wide receiver Geronimo Allison; Northwestern wide receiver Ed Eagan
Added:South Carolina State defensive lineman Javon Hargrave
2. Two player additions had good weeks at East-West Shrine Bowl, which helped earned their right into the Senior Bowl
The additions of wide receiver Geronimo Allison and defensive lineman Javon Hargrave come after each player performed exceptionally well during last week's East-West Shrine Bowl practices in St. Petersburg, Florida.* *
3.
Most talked about quarterback this week was North Dakota State's Carson Wentz
Entering Senior Bowl week practices, the most talked about player was North Dakota State quarterback Carson Wentz. Wentz had a good week, showing arm strength, poise and accuracy. By being on the North team, he spent the entire week with Cowboys coaches, led by head coach Jason Garrett.
The Cowboys select fourth in this year's 2016 NFL Draft.
There were some late indications Thursday that Wentz may not even be there at No. 4.
4. Ohio State's Braxton Miller played "angry" on Thursday
Ohio State wide receiver Braxton Miller continued to look like the best player on the field Thursday, consistently beating opposing defensive backs in what he makes look like little effort.
On one particular play, Miller beat Minnesota cornerback Eric Murray in the end zone, then aggressively tossed the ball to the ground, showing some attitude. In some ways, it reminded you of Cowboys wide receiver Dez Bryant's on-the-field mentality.
5. Miller shaken up at practice with injury to his right leg
Miller left practice early with what appeared to be a right leg injury, but as it turned out, pulling Miller from practice was just precautionary as he had cramped up.
Miller should be good to play on Saturday afternoon.
6. K.J. Dillon was powerhouse during 11-on-11s
West Virginia safety K.J. Dillon absolutely leveled Arizona State running back D.J. Foster during 11-on-11 drills.
Dillon is officially on the radar.
7. Defensive lineman is the position that stood out all week at the Senior Bowl
As Senior Bowl executive director Phil Savage predicted on Tuesday night, the defensive lineman position was the most talented position of the week, featuring a nice group of players who you should keep an eye on headed into draft week.
Charles Davis' DL to Watch
---
*8. Dallas Cowboys head coach Jason Garrett coached with edge this week *
Dallas Cowboys head coach Jason Garrett was sure that his North team had fun during practice this week. Garrett made a habit of having his team circle up for offensive line-defensive line drills and it created high-pressure, but enjoyable competition amongst his team.
9. One more chance in pads before the NFL Draft for these seniors
Thursday marked the final time the Senior Bowl players will have an opportunity to put on the pads and play football at an actual practice. Saturday will mark their final game in pads as college football players.
February's NFL Scouting Combine is a means of testing the players in various drills, but there will be no more actual football for them after Saturday until they are hopefully selected later this year in the NFL Draft.
PLAYER SPOTLIGHT – MISSOURI OFFENSIVE LINEMAN EVAN BOEHM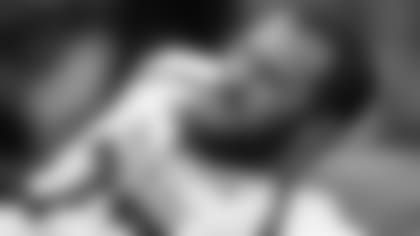 When going through a new challenge in your life, it always makes it easier to have someone to turn to that has been there before.
For Missouri offensive lineman Evan Boehm, that person is his former Missouri teammate and current Kansas City Chiefs starting center Mitch Morse.
"Mitch came over my house a couple weeks ago before I went off to train, and he had dinner with us," Boehm said. "My parents got to pick his brain a little bit about the process and what it takes and everything like that.
"Mitch has been a great help, and every time I had a question or anything, Mitch lets me text him and he has an answer for everything. I'm blessed to have a friend and an old teammate like Mitch."
Morse and Boehm played together on the Missouri offensive line from 2012 to 2014, and Morse was selected by the Chiefs in the second round of the 2015 NFL Draft.
Boehm is also a local of Kansas City who attended high school at Lee's Summit West, and so the city of Kansas City and the Chiefs mean a lot to him.
While Boehm's Tigers had a subpar season, finishing 5-7 overall and just 1-7 in the SEC, his final win as a college athlete came at a place he watched the NFL as he grew up—at Arrowhead Stadium against the BYU Cougars in November.
That game, Boehm said, was a "dream come true."
"We saw BYU on the schedule there and it just got me really excited and I couldn't wait for the game," Boehm said. "The amount of attention that I had, and the family that I had in Kansas City was amazing, and I enjoyed every minute of it."
Boehm's Tigers beat BYU, 20-16.
"You grow up a Chiefs fan, going to Arrowhead every Sunday and watching the Chiefs play with Dante Hall, Priest Holmes, all those guys," he explained, "and then watching the MU-KU games at Arrowhead growing up as a Mizzou fan seeing all that stuff. It was a lot of fun."
That game, among many others in his college career, earned Boehm the right to travel to the Senior Bowl in Mobile this week to showcase his talent and meet with NFL teams that could be looking to draft him this coming April.
Through the combination of seeing a friend in Morse go through his process and transition and now actually being at the Senior Bowl, Boehm's goal of being drafted in the NFL is beginning to seem real.
At the Senior Bowl, he said he intends to prove to people he's a dominant player and by doing so, follow in the footsteps of Morse.