It's a lifelong dream for any young football player to be drafted into the National Football League. It's something else entirely, however, to potentially join your childhood team while the draft takes place in your hometown.
That's a possibility for a handful of Kansas City natives who are competing at the NFL Scouting Combine in Indianapolis this weekend, and while each of those players is focused on simply putting their best foot forward, the idea of landing with their hometown team frequently induced a smile.
"That would be everything. I grew up right next to [the stadium]," defensive end Adetomiwa Adebawore told FOX 4. "I'd be so excited to play for my hometown team. That'd be a blessing."
Adebawore, who attended North Kansas City High School before playing his college ball at Northwestern, certainly made a strong case with his performance at the Combine on Thursday. The 6-foot-2, 282-pound edge-rusher recorded numerous mind-boggling metrics for his size during on-field drills, including a 4.49-second 40-yard dash (fifth among defensive linemen) and a 37.50-inch vertical jump (third among all defensive linemen).
In fact, among players at the Combine who weighed 275+ pounds since 2003, Adebawore recorded the fastest 40-yard dash, the second-longest broad jump (10 feet, five inches) and the third-highest vertical jump.
Adebawore is one of several defensive linemen with Kansas City roots currently competing in Indianapolis. Another is former Rice defensive end Ikenna Enechukwu – who attended Ruskin High School – and like Adebawore, the prospect of joining the Chiefs wasn't lost on him.
"It would mean so much for everything to come around full circle," Enechukwu told FOX 4. "For me to achieve my dreams where I grew up and to represent my town would be a dream come true."
Former Kansas State defensive end Felix Anudike-Uzomah also fits the bill, as he attended Lee's Summit High School before going on to star for the Wildcats.
"It would be nice – I grew up a Chiefs fan," said Anudike-Uzomah when asked about potentially joining Kansas City. "It would be pretty nice, especially with my hometown people [there]. It'd be a great experience."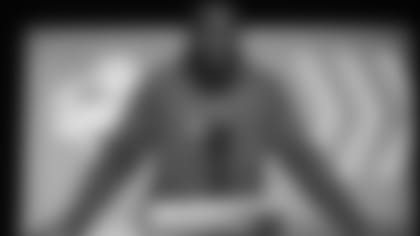 The trio of Adebawore, Enechukwu and Anudike-Uzomah meant that the Kansas City area was well-represented during defensive lineman drills on Thursday, but there's also a local offensive player to know in former Michigan wide receiver Ronnie Bell, who attended Park Hill High School.
Bell, who earned Third-Team All-Big-10 honors last season, led the Wolverines with 62 catches for 889 yards and four total touchdowns in 2022.
All four players have already made Kansas City proud, and regardless of where they land, it will surely be a thrill in its own when their childhood dreams are realized in their hometown.
"It's a dream come true. I've been working on this my whole life, and to be a Kansas City guy and for the draft to be in Kansas City, [it's special]," Anudike-Uzomah said. "My mom is proud of it, and everybody [back home] is really proud of it. I'm so excited to be drafted in Kansas City."