It was the talk of the Senior Bowl before it began, and it's been the story through the first three days down here in Mobile, Alabama.
The level of talent along the defensive line for both the North and South teams has been outstanding.
"It's almost the question of who's not," NFL Network analyst Charles Davis said of which defensive linemen have been standing out to him this week. "I mean it's been something because you've got them both inside and outside. Adolphus Washington from Ohio State—this kid from Louisiana Tech, Vernon Butler, I thought he's been sensational. Sheldon Day, Austin Johnson, Matt Ioannidis from Temple I think has really jumped things up for himself.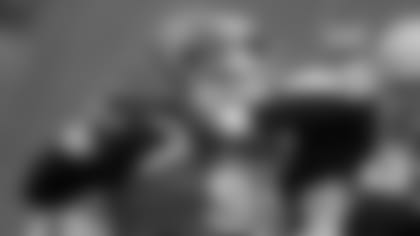 "So those are inside guys. I thought that Sheldon Rankins was terrific as well. I mean, all up and down the line."
Rankins is a player who came into Mobile as a projected first-round pick already, and he's done nothing this week to dissuade any of that talk.
Over the past two seasons at Louisville, Rankins had 26.5 tackles for loss and 14 sacks.
"I wanted to show people that I'm a complete player," Rankins said of accepting his invite to the Senior Bowl. "Obviously, I think my body of work speaks for itself. Being able to test your chops against guys like (Louisiana State OL) Vadal Alexander, (Arkansas OL) Sebastian Tretola—being able to test my worth against those guys.
"It was a no brainer coming out here."
One of the most impressive things that Rankins has shown this week is his versatility and ability to play multiple spots along the defensive line, which is crucial in today's NFL as players must both be able to anchor against the run but also have the quickness and agility to provide something disruptive in the interior in the passing game.
"I'm a proponent that interior disruption destroys everything or anything faster than edge pressure," NBC Sports analyst Josh Norris said, "because now tackles are taught to ride these edge rushers around, and then the fabric of the pocket is in the middle."
Rankins has been one of the many guys this week that has been almost impossible to block during the OL-DL one-on-one drills.
"You may not expect a 305-pound guy going to be able to do the things that I can do," he said, "but I think it shows up on tape."
NFL.com's Lance Zierlein has also been really impressed with the talent along the defensive line.
"I think D.J. Reader, who was a late add from Clemson, has been very strong at the point of attack, has been very impressive," he said. "(Jarran) Reed from Alabama, he is who he is. He's just strong and tough to deal with. Sheldon Rankins just is unblockable right now, and his hands are so good. He's so quick and he's so well balanced. He's just been too much for the offensive linemen.
"I mean they're all pretty talented. Those are the guys right off the bat that are kind of popular."
Reed is another one of the players down here who came into the week as a projected first-round pick already, but that's also not something he's really buying into right now.
"I just don't really pay attention to mock drafts or anything like that," Reed said. "I'm just trying got go in and do the best I can to help improve each and every day. It's real important to showcase my talents here, having the versatility on the defensive line.
"I'm glad to be here and I want to show that opportunity."
According to Pro Football Focus, who is a new partner of the Senior Bowl this week, BYU's Bronson Kaufusi, Notre Dame's Sheldon Day and Temple's Matt Ioannidis have been some of the most impressive players this week.