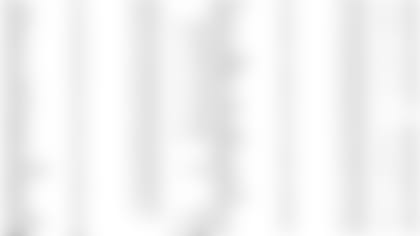 Starting quarterback Alex Smith played almost exactly half the game with 35 offensive snaps (49 percent). Smith had played 27 snaps in Kansas City's first two preseason games combined.
Tackle Jah Reid led all offensive players with 38 snaps (53 percent). Reid hadn't played more than 28 snaps in either of the first two preseason games.
Wide receiver Chris Conley led all wide receivers in snaps (35; 49 percent) for the second-straight week.
Wide receiver Tyreek Hill recorded a preseason-high 33 offensive snaps.
Defensive tackle Chris Jones played 27 snaps (37 percent) in his preseason debut. Jones, who spent most of training camp on the PUP (physically unable to perform) List following offseason knee surgery, recorded a sack in the game.
Defensive tackle Roy Miller recorded 10 snaps in his Kansas City debut before leaving the game with hamstring spasms. Miller signed with the Chiefs in early August and has been easing back into action after rupturing his Achilles tendon last season.
Linebacker Frank Zombo led all defensive players with 53 snaps (73 percent).
Safety Eric Murray played a preseason-high 48 snaps (66 percent).
Linebacker Kevin Pierre-Louis, who the Chiefs acquired from Seattle in late July, played 37 defensive snaps (51 percent). Pierre-Louis hadn't played more than 23 snaps in either of Kansas City's first two preseason games.