The Chiefs and the Missouri Lottery have teamed up to honor the best teachers in Missouri. At each home game this season, the Chiefs will recognize an outstanding teacher through the Stars of the Classroom program.
The first winner was honored on September 7th, during the home opener at Arrowhead Stadium, as the Chiefs recognized Kaytee Jones. Jones is currently a first grade teacher at Shepard Boulevard Elementary School where she is known for her passion for teaching and team player approach.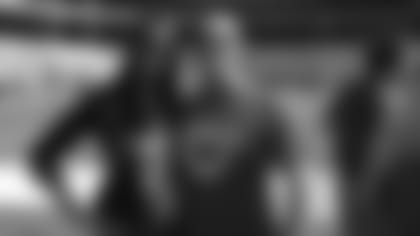 Jones and her husband, Nathan, are die-hard Chiefs fans and were thrilled to be honored at Arrowhead. The couple received two lower level tickets to the game, two pre-game field passes and were recognized on the ArrowVision screens in stadium.
"I was very excited when the Chiefs called me to tell me about this opportunity," Jones said. "I've been teaching for six years and this is such an honor. My husband and I are huge Chiefs fans, so it was awesome being recognized by the team and being down on the field before the game."
If you know a great teacher who deserves recognition, nominate them at kcchiefs.com/sotc. Each winning teacher receives two tickets to the game, two pre-game field passes, a parking pass and will be featured on ArrowVision during a Chiefs home game.