Chiefs Training Camp is underway here in St. Joseph, Missouri and fans are out in full force to support their team. Earlier this week, to show their appreciation, the Chiefs organization hosted Season Ticket Holder (STH) Day at camp during which fans had the opportunity to spend some time with Chiefs Chairman and CEO Clark Hunt, amongst other guests.
"We had a lot of our Season Ticket Holders out this morning, and it was great talking to them and hearing their enthusiasm about the season," Clark Hunt commented.
STHs are extremely excited about the upcoming season and enjoyed the rainy morning at camp.
"We got up early to come out to Chiefs Training Camp for Season Ticket Holder day," Vince Clifford, STH of 21 years noted. "We enjoyed some pancakes, hanging out with lots of Chiefs fans and watching the Chiefs in this brand new era. We're so excited for this season. We can't wait for the first game."
They also enjoyed meeting Clark Hunt, after catching their breakfast through the air from Chris Cakes, infamous for their delicious pancakes that are tossed straight from the skillet to your plate.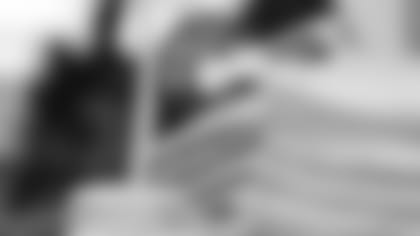 "It was a surprise to catch my pancakes on my plate and then turn around to see the Chairman and CEO," Brice Obermueller, 22 year STH explained. "It took me by surprise. He was greeting fans and signing autographs, it was nice to see him hanging out at camp."
Check out more photos from the STH day HERE.
Chiefs fans are welcome to visit Training Camp throughout the week. Check out the complete schedule of practice times and if you need any more information, click here. We look forward to seeing you in St. Joe!