To say Sunday's 26-17 Chiefs win against the Tennessee Titans was historic, would be as gross of an understatement as saying Chiefs fans are pretty excited about being 5-0, heading into Raider Week.
It's only fitting that what has been a special beginning to the Chiefs voyage, under head coach Andy Reid, his staff and general manager John Dorsey, continued with another special teams score on Sunday, via a recovered fumble in the end zone by Chiefs CB Marcus Cooper, who was one of seven players that Dorsey claimed off waivers on Sept. 1.
It was the Chiefs second special teams TD of the season, under the direction of special teams coordinator Dave Toub and assistant Kevin O'Dea.
Cooper described the first score of the game, also the first of his career.
"Cyrus Gray pushed the guy into the ball and it bounced off his foot and I just saw it there and jumped on it," Cooper said. "I saw that I was in the end zone and I was just happy about it. It was a great feeling."
Speaking of special teams, Chiefs K Ryan Succop's dependability of blasting the pigskin through goalposts, when called upon, has all but erased the infamous "Mr. Irrelevant" tag that follows every other player that is selected with the final pick of the NFL Draft, which for Succop happened in 2009.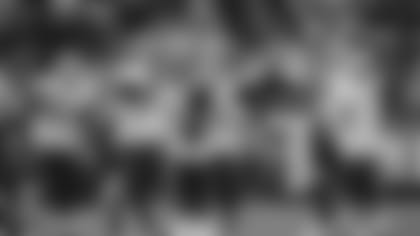 The former South Carolina Gamecocks K made good on all four field goal attempts on Sunday (29, 24, 33 and 48 yards) and converted both PATs for 14 points in the contest.
"It was awesome," Succop said of Sunday's win. "I'm really proud of Dustin (Colquitt) and Thomas (Gafford). I was really pumped that Dustin was able to come out and hold for me. People don't realize how big of a deal that is, and he toughed it out. Obviously, he was a little banged up and he came out and held and did a great job and fortunately we were able to go out there and make some big kicks today and go out there and put the game away there in the end and praise God."
The play of the Chiefs special teams was just part of the three-phase victory, which included another better-than-advertised showing by the Kansas City defense, pleasing coach Reid.
"Defensively, I thought our guys came out and established attitude early and even though they (Titans) were able to kind of get into a little bit of a flow in the second half, they were able to put an end to that and finish strong," coach Reid said Monday.
The appreciation by coach Reid serves as a motivating factor to the players, who set high expectations in 2013, according to two-time Pro Bowl LB Derrick Johnson.
"The expectancy is there," Johnson said. "We expect a lot out of ourselves. With coach Andy Reid, our standard is high. He is not going to let it down at all. I am just proud of our team for fighting back in that fourth quarter."
Like it has all season long, the Chiefs offense took their cue, late in the fourth quarter, this time in need of a go-ahead touchdown.
"We came back when we had to," Chiefs QB Alex Smith said. "We moved the chains. The defense gave us some good field position and then, we got that score in the end. This was a first for us this year, being down in the fourth quarter and having to have a game-winning drive and we were able to put it together. The defense sealed the deal, along with the special teams. These are great experiences to have, especially being together for the first time on offense, great experiences to build on."
Helping on the game-winning drive was Chiefs Pro Bowl RB Jamaal Charles, who rushed for 108 yards on 22 carries Sunday, with a one-yard touchdown, to give him to give him 4,933-career rushing yards, passing RB Christian Okoye (4,897) for third place on the franchise's all-time rushing yardage list.
"On the sidelines, we came together," Charles said of the fourth-quarter comeback. "We've been there before, playing in this atmosphere and playing together; everybody just came together as a team and we wanted it."
The game-clinching drive lasted 10 plays, covering 66 yards in 5:05, before the team later celebrated its fifth-straight win, for just the second time in franchise history (2003).
"5-0 feels like a dream," Chiefs WR Dexter McCluster said. "But, this is reality. It feels good. We put in so much work, throughout the week, as far as on-the-field and off-the-field, and just to see it show on the field, it's just a great feeling."
Chiefs fans are hoping the feeling continues, especially this Sunday, against the club's bitter rival, the Oakland Raiders.
For the best images from the Chiefs Week 5 win, click here.