One day after former Chiefs DT Curley Culp was inducted into the Pro Football Hall of Fame, the Kansas City Chiefs returned to the practice field, just days away from their first preseason game, Friday against the New Orleans Saints.
While the weather continues to be a surprise in St. Joe, with an overcast sky and temps in the low 70s, the competitive nature of the Chiefs offense, defense and special teams does not.
Sunday morning's practice included more one-on-one, positional-group work, as well as 7-on-7, 9-on-7 and the always crowd-pleasing 11-on-11 period, before practice ended with special teams work.
During the red zone work, the Chiefs offense utilized the accuracy of Chiefs QB Alex Smith, as well as the big bodies of their TEs, including Anthony Fasano and Tony Moeaki, who scored twice on the day.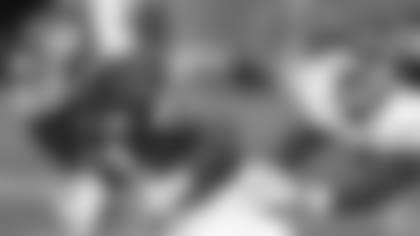 "Alex is doing a great job of getting us the ball," Moeaki said. "We just have to continue to build off that and get better as a TE group. We need to improve every day."
Moeaki's TDs came off a deflected pass in the right flat and the other was a result of great blocking up-front.
"(It) was a screen," Moeaki said. "Rodney Hudson did a great job of getting out there, showing his athleticism, getting on a block and I just cut in front of him, so, it was a good job, mostly by Rodney."
Despite the red zone success by the Chiefs offense, Fasano sees how the team can get better.
"I think there's still a lot of improvement on our part and time is going to be our friend, when it comes to chemistry between Alex and me," Fasano said. "Making small steps in camp helps and just getting on the same page, letting the abilities take over instead of thinking so much within the offense."
The Chiefs offense also showed promise in 9-on-7 drills, when rookie QB Tyler Bray stepped in and made the most of his opportunity, finding Chiefs WR Jamar Newsome down the left side for a big gain, before also hitting Newsome for a TD to end 11-on-11, near the completion of practice.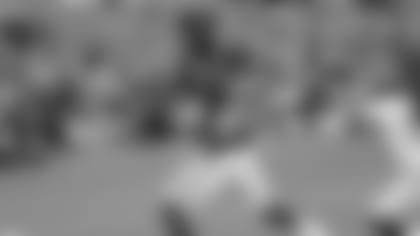 "He's a down-the-field QB," Newsome said of Bray. "He loves to throw the ball down the field and I love that too, because I'm a vertical guy."
Bray also connected with Chiefs WR Josh Bellamy on what was one of the best throws of the day.
"I thought he was going to throw it inside, "Bellamy said. "But, he went up top and when I looked up, I saw that it was a beautiful ball and I was like, 'I have to make this one!'"
Bray described his day by focusing on what made the throws possible.
"Going down the field, the o-line was blocking great," Bray said. "There was no one in my face; I was hitting short stuff, just deke and dunking, until we got to the goal line and tried to throw a fade to Bellamy, it kind of slipped out of my hands and I threw a bad ball and the next one came up, I threw it in the corner to Newsome and he caught it."
While the Chiefs offense seemed in control during Sunday's practice, the defense refused to quit. Chiefs LBS Justin Houston and Tamba Hali met in the offensive team's backfield on a few occasions, not allowed to touch the QBs.
The Chiefs secondary also recorded a few picks in various drills; Chiefs DB Neiko Thorpe intercepted QB Chase Daniel, following a previous pick by Chiefs DB Tysyn Hartman. Also patrolling the Chiefs secondary was the reliable Brandon Flowers, who evaluated his team's defensive performance on Sunday.
"We did some good things on defense," Flowers said. "But, we have to be better. Whenever we're in the red zone, we don't want any scores down there. The offense came out and executed, but like I said all of camp, we've been battling back and forth and that's a sign of good competition."
One of the Chiefs defenders making a lot of noise in camp is DE Austen Lane, who agreed with Flowers.
"It was kind of a battle, back-and-forth," Lane said. "We started out great in 9-on-7 and then we gave up too much after that. It's going back and forth right now, but that's kind of what you want in camp."
Practice drew to a close on Sunday with the Chiefs working on special teams, which Pro Bowl punter Dustin Colquitt said continues to be a priority, thanks to special teams coordinator Dave Toub and assistant Kevin O'Dea.
"They know what they're doing out there," Colquitt said.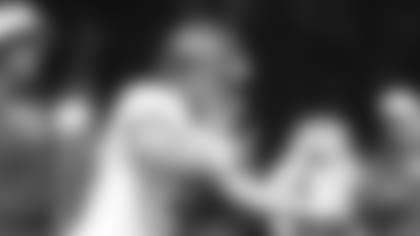 "They've been in a lot of situations. They keep it simple for guys and they don't allow the same mistake twice. That's the biggest thing I've noticed. There's accountability. They're preaching that special teams is more important than offense and defense. A lot of fans want to see a lot of points scored; they want to see sacks and pick-sixes and stuff, but with Dave (Toub), special teams is the most important thing and Kevin (O'Dea) feels the same way; so when you have that philosophy and mentality going into it, obviously offense and defense are special, but if special teams is the most important thing you do (and) you only have a couple of plays, they're all important and so that's how we're treating it."
After practicing on the field, the team continues to work this afternoon in the meeting rooms, highlighting what didn't go right, correcting it and implementing a plan to better execute on Monday, when it practices at 8:15 AM CDT.