The best way to describe Kansas City's 23-17 victory against the Cleveland Browns is exactly how Chiefs head coach Andy Reid did, during his postgame press conference.
"Listen, every win is a good win," coach Reid said. "This one was awful close, but the guys battled. I mean, what hearts, man."
With Sunday's win, the Chiefs became the first team in NFL history to go 8-0 during their first year with a new head coach and quarterback. The Chiefs are also the first team to start 8-0 after posting two or fewer wins in the previous season and are the first team in NFL history to start 8-0 after posting the league's worst record in the previous year. Kansas City's 8-0 start is the second-best start in franchise history behind the club's 9-0 start in 2003.
The Chiefs win also was personally historic for head coach Andy Reid, who before Sunday had never in his 15-year coaching career started a season 8-0; his previous best start was 7-0 in the 2004 season with the Philadelphia Eagles.
"There were a lot of good things and there were a ton of things we can get better at and we're just going to keep doing that," coach Reid said. "We're going to keep working and get some rest and get ourselves back here. We have another week before the bye and a trip up to Buffalo, against a good Bills team."
CHARLES CROSSES 100 SCRIMMAGE YARDS: RB Jamaal Charles recorded 18 carries for 74 yards (4.1 avg.) and caught five passes for 46 yards (9.2 avg.) in Sunday's game, giving him 120 yards from scrimmage in the victory. With his 18 carries, he moves into fifth place in franchise history for most-career rushing attempts with 937, passing RB Marcus Allen (932).
In a victorious Chiefs locker room, Charles shared his emotions after the team's eighth win in 2013.
"The goal is to go farther and farther," Charles said. "We're going to take this one game at a time and look at the next opponent. It's a blessing to be 8-0. It feels great."
SMITH CONTINUES WINNING WAYS: QB Alex Smith recorded his eighth-consecutive win in a Chiefs uniform, becoming the first Chiefs signal-caller to win his first eight-consecutive starts in his first season with the team. Smith joins QB Mike Livingston as the only two quarterbacks in franchise history to win their first eight starts in a Kansas City uniform, but Livingston won his first nine starts over four seasons (1969-72).
With Sunday's win, Smith becomes the first quarterback since the AFL-NFL merger in 1970 to win his first eight games in a row with a new team. Dieter Brock won his first seven starts in 1985 with the Los Angeles Rams. Smith completed 24 of 36 passes for 225 yards with two touchdowns for a 102.2 passer rating, his first 100.0 passer rating in a Chiefs uniform. He is 12-0 as a starter when throwing for a passer rating of 100.0 or more on 20 or more attempts.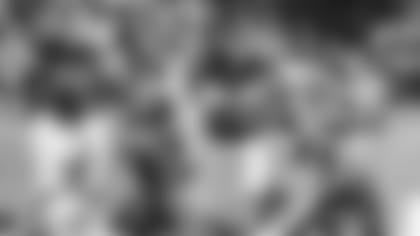 Smith added 40 rushing yards on six carries (6.7 avg.), crossing the 1,000-yard rushing plateau for his NFL career. He now owns 1,019 career rushing yards on 261 carries (3.9 avg.) with five touchdowns on the ground. He has 49 carries for 258 rushing yards in 2013, a single-season career high for rushing yards. His 258 rushing yards this season move him into fifth place in team history for most rushing yards by a quarterback in a single season.
Smith spoke after the win on Sunday about taking pride in own ability to run the ball.
"If teams are going to play man or play certain ways that they're not going to count the quarterback, then you're going to try to make them pay," Smith said. "I think you have to be smart with it. On that one run, and it will never show up on a stat sheet, but I think Dwayne (Bowe) had a great block and I made a turn to the edge and it went from a six yard run to a twenty-something yard run. Things like that, as well as down field, no question, it's something I try to take pride in, those kind of hidden yardage (plays) that get kind of lost. Every week, a little bit here and there, a couple of conversions, those change games."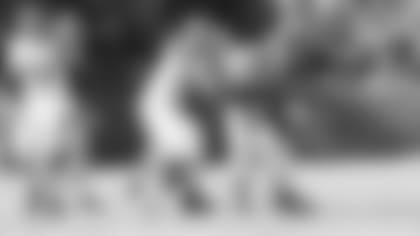 HOUSTON DROPS CAMPBELL: LB Justin Houston recorded a 10-yard sack of Cleveland QB Jason Campbell in the game. Houston owns 11 sacks (-75.0 yards) in 2013, setting a new single-season career high, passing his old mark of 10 sacks in 2012.
SHERMAN FINDS END ZONE: FB Anthony Sherman recorded his first-career touchdown on a 12-yard pass from QB Alex Smith. Sherman had three receptions for 23 yards in the contest. He has 13 receptions for 106 yards (8.2 avg.) on the season, both marking single-season career highs.
Sherman was asked if he was expecting Smith to look his way, once the play was called.
"That's how it was working in practice," Sherman said. "But, the thing that I do is if I'm on a route, I always think it's coming to me. I don't care if I'm the last read or anything, I'll always be prepared."
MCCLUSTER GRABS TOUCHDOWN CATCH: WR Dexter McCluster caught seven passes for 67 yards (9.6 avg.), including a 28-yard touchdown reception in Sunday's game. The touchdown was his fourth-career receiving touchdown and his fifth-career offensive touchdown. McCluster owns two punt return touchdowns for seven-career touchdowns. He added one carry for five yards in the game.
After the victory, Dex spoke about always being ready to make a play for the team.
"As a player, you never know when it's going to be your day," McCluster said. "You just have to be there, when it's time. I was able to get started early and get some balls early. It was my opportunity today and I took advantage of it."
ZOMBO COMES UP WITH SPECIAL TEAMS PLAY: LB Frank Zombo recorded a WR Davone Bess fumble on a punt return. It marks his first-career special teams fumble recovery.
Zombo described what the big special teams recovery means to him, following the Chiefs win.
"I take great pride in that, because that's my role on this team as a special teams player," Zombo said. "That's my goal is to get this special teams unit to number one."
JOHNSON CONTINUES CLIMBING TACKLE CHART: LB Derrick Johnson recorded 12 solo tackles in Sunday's contest, giving him 935-career tackles to rank third in team history. He passed S Deron Cherry (927) for third place.
"I just took my opportunities," Johnson said, following Sunday's win. "I've been consistent this year; this game has probably been my best game. I'm just trying to get better. I always pray and ask the Lord to bless my body and help me to stay healthy and I'll take care of the rest."
Speaking of rest, the team will enjoy the win and rest, before returning to practice later this week for next Sunday's road matchup against the Buffalo Bills.