The Kansas City Chiefs took their talents to the runway on Tuesday night, hosting the sixth annual Chiefs Style Lounge to kick off Kansas City Fashion Week at Union Station.
Six hundred people were on hand for two fashion shows, each of which featured Chiefs' players, cheerleaders and player wives sporting the newest team apparel.
The event was once again hosted by Tavia Hunt, wife of Chiefs Chairman and CEO Clark Hunt and Director of the Chiefs Women's Organization.
"It's really a privilege for us to partner with Kansas City Fashion Week and to be able to come together and be involved in the community in another way - in the fashion industry," Hunt said. "We love Kansas City, we love this community and just to have one more partnership means a lot to our family."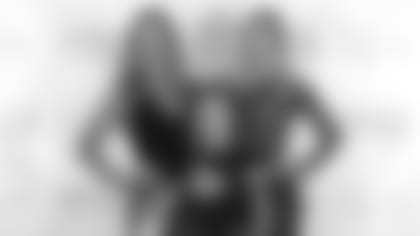 This year's edition of the Style Lounge marked the first time that current players participated, as quarterback Alex Smith, linebacker Derrick Johnson, punter Dustin Colquitt and defensive tackle Chris Jones all took a turn walking down the runway.
"We say football is family and it really is," Hunt said. "Football brings people together and we're excited to be here with our extended family and some of our amazing Chiefs wives and their significant others who are going to show us how they strut their stuff."
It was a change of pace for the players, taking their abilities from the field to the runway.
"It's fun. We have a few players out here tonight and our wives," Colquitt said. "I think she can do this a little bit better than me."
Johnson, meanwhile, brought a bit of experience to the stage.
"You know what, I've walked in a couple fashion shows before, not to pat myself on the back, but it's fun," Johnson said. "There's about 600 people here, so a little less than what Arrowhead has, so it's cool."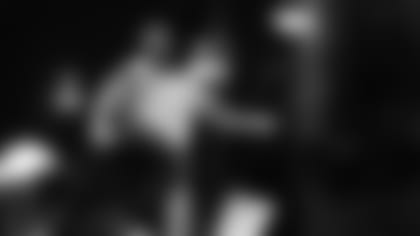 The event kicked off the 12th semi-annual Kansas City Fashion Week, with KCTV5 sports reporter and Chiefs Radio Network sideline correspondent Dani Welniak serving as an on-stage host.
"Kansas City Fashion Week is something I've grown to realize is much bigger than just Kansas City," Welniak said. "It brings a town together like you're seeing - sports fans and fashion fans alike. They're colliding, they're enjoying more than just sports and more than just fashion."
In addition to the show itself, the event featured a "Chiefs Design Challenge," where 14 different designers styled an outfit around a "Chiefs Kingdom" t-shirt.
High School senior Miranda Hanson was named the winner at the end of the show, earning a $1,000 prize for her design.
"They get one t-shirt and turn it into their own unique look and everybody's turns out so different," Welniak said. "I love that you can just take a random shirt that might be in your upper drawer of your bedroom and turn it into something that you can like wear out at a party or on the town."
From the runway to the challenge, Tuesday's event marked another successful night for the Style Lounge, as it's grown into a model for other clubs to follow around the league.
"To see the way it's taken off, the energy that's come from it and to have other teams calling us asking if they can come to our style lounge and figure out how to emulate it and bring it to their city," Hunt said. "That's pretty exciting."
Photos from the 2017 Chiefs Style Lounge in Union Station