When Temple linebacker Haason Reddick graduated from South Jersey's Haddon Heights High School, there wasn't a long line of college programs waiting to offer him a scholarship.
Due in part to Reddick playing just four games his senior year because of injuries, the opportunity just wasn't there for him at the next level.
"I thought my football career was over after high school," Reddick said last week at the NFL Scouting Combine. "It just so happened my father, he was poking around, trying to see if there was any way I could get on the football team, and [Temple] coach Francis Brown, he's at Baylor now, but he was on the first staff when I got there, and we knew him from back home. I actually did a couple workouts with him and he got me on as a preferred walk-on.
"From there on out, there goes my career at Temple."
It seems strange to think Reddick didn't have a scholarship opportunity coming out of high school considering he just finished a fantastic performance at the Combine and is projected by most at this point as a first-round pick.
The versatile athlete who initially went to college as a defensive back but would convert to defensive end and now finds himself looking at an NFL future as a linebacker, also credits Kansas City Chiefs defensive line coach Britt Reid, who was with him that first year at Temple in 2012 as an assistant, for believing in him at the onset of his college career.
"Britt Reid is a good man," Reddick explained. "He was one of the few guys on that first coaching staff that was willing to help me out and who thought I had potential. I was very appreciative (of him). He always looked out, always tried to give me the opportunity to show what I had."
Reddick said he had a formal interview with the Chiefs at the Combine and came away with a positive feeling.
"Going there and talking to Andy (Reid), and those guys, I think they liked me," Reddick explained. "The vibe I got from [Reid] when I talked with the Chiefs, I think they liked me, so I feel like that setting would be comfortable, and that's somewhere I'm willing to have a long career there if I get drafted there."
Reddick, who is looked at as a versatile linebacker who might be best suited on the weak side in a 3-4 defense, isn't worried about the fact that after a standout Senior Bowl performance in January and a terrific performance in Indy, is seen as a first-round pick.
"I try not to pay attention to it just because you never know what can happen," Reddick added. "People's stock rise and fall every day depending on what a team needs, or what a team thinks about somebody. It's great to see some people think I'm worthy of being a first-round draft pick.
"Hopefully come draft time, that's what it is. Until then, I'm going to continue to work hard and approach every day with a dominant approach."
When it comes to dominating, that's a word that could aptly describe what Reddick did for his Temple defense last season, which ranked third in the nation in total defense behind Alabama and Michigan.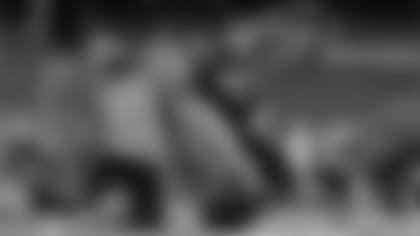 Reddick, who measured in at 6 feet 1 and 237 pounds, finished last season with 9.5 sacks, 21.5 tackles for loss (a number that led the nation), three forced fumbles, a fumble recovery and an interception.
"At the end of the day, I'm a competitor—that's what I do," Reddick added. "There's no question about that. It doesn't matter who they put in front of me or what they ask me to do. I'm just going to try to do it as best as I can."
Reddick's intangibles can be explained by his college jersey number, No. 7, which was a sign of respect from his teammates, as single-digit jersey numbers are voted upon and only given to the players they consider the toughest on the team.
Or the fact that he didn't earn a scholarship until right before his senior year, when Reddick helped lead a Temple program that had struggled for years, to an AAC Conference Championship, which was just the second in program history and first since 1967.
The journey from a college walk-on who thought his career was over after high school to one of the best inside linebackers available in the upcoming NFL Draft has been special for Reddick, but to him, this is just a checkpoint on a longer path.
"The journey has been nothing but hard work for me," Reddick explained. "A lot of people think because I'm here now, the work is over. The work for me is not over. I'm going to continue to work hard. I'm going to continue to make sure I have a prosperous career in the NFL.
"But, as far as the overall journey, I'm living in the dream, and I don't have to wake up. So, I'm extremely grateful and appreciative of this opportunity and I'm blessed to be in the position I'm in."
---
Here's what some of the top NFL draft experts had to say to Chiefs.com last week at the Combine about Reddick:
NFL Network's Daniel Jeremiah
"[Reddick] would give you that versatility. He can play inside and he can play outside. He's just a really physical player and is really instinctive."
"I loved [Reddick] when I watched him on tape. On my first top 50 board, which came out in early January, I put him at No. 38, so I had him pretty high. Then at the Senior Bowl I think he kind of blew up and he's moving up boards. He really pushed himself and transitioned into more of a pass rusher off the edge. That's what his size translates to, but he's undersized for a defensive end. I think you're going to drop him off-ball, and at the Senior Bowl he really showed that he can handle that. He can handle dropping in zone, in man and can cover those responsibilities. You don't see spacing with him because he's that type of athlete. I think you would ideally like to see him inside in a 3-4."
"I think Reddick is the guy. You look at him and he just pops off that tape, and he's explosive off the edge. To me, that's the spot. If I can get a playmaker who I can really develop and spend a year really building into a quality pass rusher, if I'm [John] Dorsey, that's the pull I want to pull. You could see him really being utilized in Bob Sutton's defense in terms of how they play the pass rushers there."
NFL Network's Charles Davis
"I see him fitting in as a specialty outside linebacker to begin with. He'll rush the passer, get his feet wet and learn how to play. I compare him to Bruce Irvin, remember him coming out of West Virginia? People didn't know what to do with Bruce and Seattle said, 'Yeah, we do.' They turned him loose. Remember when people didn't know what to do with Aldon Smith in the beginning? He set a sack record as a rookie before he became a full-time player."
Bleacher Report's Matt Miller:
"He can do so many things. He started as a walk-on safety and he's played defensive end. We saw him play off-ball linebacker down at the Senior Bowl and he looked great down there. I think he could be a plug-and-play guy. Ideally, he's probably a 'Will' linebacker in a 3-4 scheme. You're going to want to protect him a little bit, but he has such great range, he understands coverage and I always love the guys like that, that go from being a walk-on to now being somebody that we're looking at as a late first-round pick. He's really just overcome every obstacle, and his agent never misses an opportunity to tell me that this kid was something, and he was absolutely right.
"If there's a run on some of those other positions that will push a guy like Reddick down the board, as DJ's (Derrick Johnson) future is kind of in doubt as he gets older, [it's] getting someone that has the athleticism and range that really makes that defense go. You can't replace DJ, but Reddick is a really good start."