As Christina Jasso neared the end of her remarks on Friday afternoon, the emotions began to take over.
Jasso, the family support program manager for the Guadalupe Centers, ran through a handful of figures and numbers, detailing how the organization, which strives to improve the quality of life for the Latino community in Kansas City, will use one of the largest donations that they've ever received.
The funds, which totaled $60,000, were courtesy of the Kansas City Chiefs and Kansas City Southern through the Hunt Family Foundation 50/50 raffle on Oct. 21, capping off a special week between the two organizations in the community.
"In the 18 years that I've been at the Guadalupe Center, I've never seen a donation like this to our family support program," Jasso said. "These funds will allow us to buy, for example, more than 28,000 loaves of bread, 22,000 cartons of eggs and 3,000 cases of diapers – we're talking about impacting thousands of people."
The check presentation, which took place at the Kansas City Southern Building downtown, came on the heels of two outreach initiatives earlier this week that directly impacted individuals in the local Hispanic community.
That mission began on Monday, as the Chiefs Community Caring Team surprised more than two dozen students at Guadalupe Center Middle School with a Play 60 clinic aimed at encouraging a healthy lifestyle.
"This means the world to me," said Principal Claudia Meyer. "Every time the Chiefs come here, they celebrate our heritage and our culture. It gives our kids just a little more fire and excitement about our community."
It was a powerful gesture that carried the potential to change lives.
"This was a special group right here – they were picked by the Guadalupe Center for a reason," Kelce said. "You could tell how much this mother loves her four kids and on top of that, you can see how much those kids love their mother. It was all-around just a fun experience to be here."
Both Mahomes and Kelce stuck around for the better part of an hour following the surprise in order to spend time with each of the kids, from Mahomes explaining how to grip a football to Kelce asking about school.
"It has been amazing to watch our players interact with this community and for our community to embrace this team," said Chiefs President Mark Donovan. "We're really proud to have partnered with Kansas City Southern to do these things."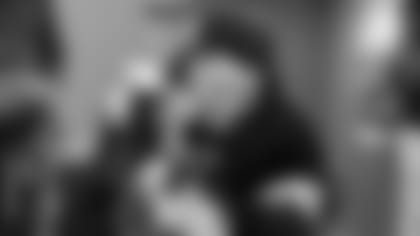 The week's events demonstrated both the Chiefs and Kansas City Southern's commitment to the Hispanic community right here in Kansas City, culminating in Friday's donation.
"It's really been special," said Patrick J. Ottensmeyer, President and CEO at Kansas City Southern. "We feel really good about our involvement and it's been great to raise some awareness for the work that the Guadalupe Centers do, and particularly with the Hispanic community, here in Kansas City."