The league recently released its complete 2014 NFL Draft order for the May 8-10th event, held at New York City's Radio City Music Hall.
Currently, the Chiefs have six picks:
1) First round - 23rd overall
2) Third round - 87th overall
3) Fourth round - 124th overall
4) Fifth round - 163rd overall
5) Sixth round - 193rd overall
6) Sixth round - 200th overall
The current format of the NFL Draft was established in 1967; fast forward to 2014 and the Chiefs find themselves with five of the six exact picks that they've had in previous drafts. Below is a look at which players were selected by the Chiefs with their past 23rd, 87th, 124th, 163rd and 193rd-overall picks of prior NFL Drafts.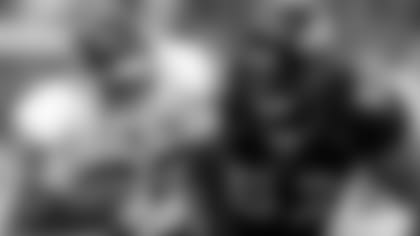 1) 2007 NFL Draft - WR Dwayne Bowe
The Chiefs selected WR Dwayne Bowe with the 23rd-overall selection in the 2007 NFL Draft. In his rookie campaign, Bowe played in 16 games (15 starts) and finished with 70 receptions for 995 yards (14.2 avg) and five TDs.
In 2014, Bowe enters his eighth season with the team, following:
103 games played (97 starts), two rushes for 16 yards, 472 receptions for 6,401 yards (13.6 avg), including a 75-yard score, one of 44-career TDs. Bowe also has three-career fumble recoveries. In two-career postseason games, Dwayne recorded a total of eight receptions for 150 yards (18.8 avg) and one TD. He earned his first Pro Bowl selection and second-team All-Pro honors from AP in 2010.
2) 1986 NFL Draft - C Tom Baugh
The Chiefs had the 87th-overall pick in 1986, when they selected C Tom Baugh (SIU) with the fifth pick of the fourth round. Baugh went on to play four seasons in the NFL, three with the Chiefs and one season with the Cleveland Browns. Baugh played in 45-career regular season games (29 for the Chiefs) and also recorded two fumble recoveries. In his one-career playoff game, he recorded one kickoff return for the Chiefs.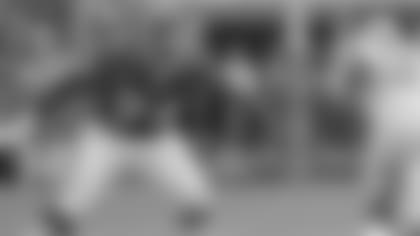 3) 1990 NFL Draft - G Derrick Graham
In 1990, the Chiefs had the 124th-overall pick of the draft (15th pick of the fifth round) and used it on Appalachian State G Derrick Graham, who played nine seasons in the NFL, five with the Chiefs. In his 99-career regular season games, Graham was in a Chiefs uniform for 51 of them (16 starts), allowing four sacks; he also played in six playoff contests (three starts) for the Chiefs.
4) 1997 NFL Draft - RB June Henley
Kansas City selected the 5'10, 210-lb Kansas Jayhawks RB June Henley with the 163rd-overall pick of the 1997 NFL Draft (fifth round, 33rd pick). However, Henley later went on to play with the St. Louis Rams, totaling 11 games (three starts), 88 rushes for 313 yards, three TDs, as well as 35 receptions for 252 yards. He totaled one-career kickoff return for 13 yards and also recorded one fumble recovery.
5) 1970 NFL Draft - DB Fred Barry
The Chiefs had the 193rd-overall pick of the 1970 NFL Draft (Eighth round, 11th pick), when they selected DB Fred Barry, who went on to play for the Pittsburgh Steelers. Barry played one season in the league and saw action in nine games, recovering two fumbles.
The next chapter of the Chiefs draft history will begin to unfold in 38 days, when, unless the pick is traded, they will announce their newest member, selected with pick number 23 of the 2014 NFL Draft.