It's an exciting week in Kansas City as the Chiefs prepare to kick off the postseason on Saturday, but for many families right here in Kansas City, it's a time rife with the most difficult of circumstances.
The Chiefs Women's Organization (CWO) – which is made up of wives and significant others of Chiefs' players, coaches and staff - sought to reach out to those families personally on Wednesday afternoon with a visit to the Ronald McDonald House, which strives to ease the burden on those with children in the hospital.
The women, including Kathy Donovan – wife of Chiefs President Mark Donovan – and Alison Veach – wife of General Manager Brett Veach – were an active part of that mission on Wednesday, as the group served lunch and participated in crafting activities in order to spread some postseason cheer amongst the building's current tenants.
"One of the things that people don't always realize about the Ronald McDonald House is that it's not just a bed – it's a meal and the support that you need while your child is sick," said Tami Greenberg, CEO of Ronald McDonald House Charities of Kansas City. "Having the CWO here today means a ton because our families aren't only getting the lunch that they need, but they're also feeling the support of the community. To be here means that your family is going through a hard time, so to feel that support is powerful."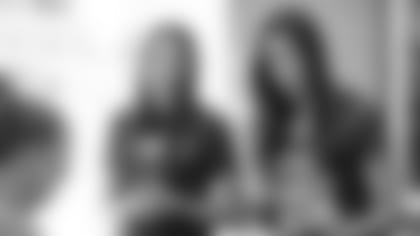 The Chiefs have a long history of providing that support, illustrated through numerous visits and financial aid over the years. Just a few months ago, the Chiefs presented the non-profit with a check for $388,112 – funds that were largely raised through Red Friday flag sales – in a continuing effort to assist the organization's mission.
It's a history that the CWO was proud to continue with Wednesday's visit.
"The entire Chiefs' organization – including the CWO – cares tremendously about this community," Donovan said. "What's so great about the Ronald McDonald House is that they create this environment that's very supportive and that lifts these individuals up. There's a sense of community here, and it's important to be a part of something positive during a hard time in these families' lives."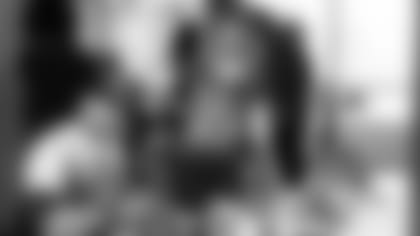 That sense of community was certainly felt during the visit, allotting each of the families with an opportunity to briefly take a step back from the circumstances surrounding their stay.
"It's an emotional experience, but it's also fun," Greenberg said. "We have members of the CWO, KC Wolf and the Cheerleaders here – it just makes this such an exciting day."
And an experience that the CWO was more than happy to provide on Wednesday.
"When any of us are hurting, we're all hurting," Donovan added. "It's really what I love about this community – we care about each other and we get involved."
To learn more about Ronald McDonald Charities of Kansas City, click here.
The Chiefs Women's Organization (CWO) visited the Ronald McDonald House Charities of Kansas City to serve lunch and participate in crafts with families.