From the very first voluntary workout, through the OTA practice sessions continuing this week, Chiefs head coach Andy Reid has his players moving at a pace that would make Indianapolis 500 drivers proud.
"High energy, fast-paced," Chiefs QB Alex Smith said. "Never a dull moment out here; non-stop for sure. It's full speed ahead. I'm working as hard as I can and push us as fast as we can go...that's just what I'm trying to do."
Fellow Chiefs QB Chase Daniel agreed.
"I think right now, it's just tempo," Daniel said. "Get up and down, get on the ball. Completions, completions, completions. Run our plays; don't worry about what the defense is doing. Just really press them – we like to blitz the defense by getting a lot of formations and a lot of shifts and motions, our tempo. Stuff like that, that's what we're really looking like."
The guys responsible for protecting the QBs have noticed the change too, including Chiefs LT Branden Albert and T Geoff Schwartz.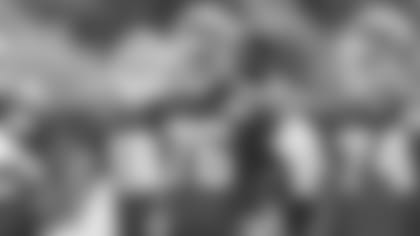 "It's fast-paced," Albert said. "First of all, we're going to be in shape. Second of all, when we push the tempo, it can get teams off balance, but we have to perfect it first."
Schwartz knows that once the defense is tired, the Chiefs can take advantage.
"It's great," Schwartz said. "It keeps the defense on their toes, gets them tired and offensively, we play better when the defense is tired and we can handle it better."
If the Chiefs are going to operate under such a high-octane philosophy, they have to train accordingly.
"Number one thing is conditioning," Chiefs TE Kevin Brock said. "Every team is working hard, but at the same time, they're not prepared for our pace. We feel like, if we can push the pace and we execute our plays, we have a significant advantage."
At times, coach Reid's practices feel like they're completed in fast-forward mode, but, being one of the best teachers in the game, he's never afraid to hit the pause button to emphasize certain points.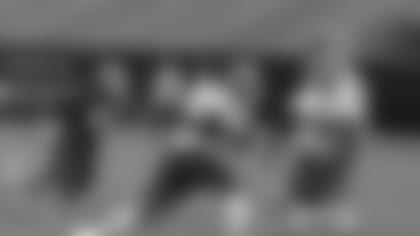 Chiefs WR Jon Baldwin described coach Reid's educational efforts.
"Whenever he thinks he can critique a little something, he'll pull me to the side and tell me, 'See, that's what I meant' or 'You could do this a little bit better or continue to do that, that was pretty good,' that type of thing. It's good that he's pulling me to the side, because I just want to be the best receiver that I can possibly be," Baldwin said.
The fun, up-tempo style of play isn't just reserved for the Chiefs offense.
"It's an aggressive-attack style defense," Chiefs LB Derrick Johnson said. "We love it. We're doing a lot of different things, as far as blitzing, covering different receivers, covering TEs at times. It's a new scheme; everybody has their thinking caps on right now, during camp and OTAs."
The team isn't just practicing at an accelerated pace; they're also trying to learn the new system in a similar fashion.
"As much as we can," Chiefs CB Brandon Flowers said. "Championships are won in the offseason; the quicker we can all get on the same page and go out there and fly around on all three aspects of the game, we'll be good."
Chiefs fans trust that the dizzying practice pace during the team's offseason will lead to breathtaking moments in the fall.