During his introductory press conference, Chiefs QB Alex Smith said he was "ready for this", referring to the 2013 season. He then proceeded to embrace his new team, leading it to the playoffs, ending with 3,313 passing yards and 23 TDs in 2013. Smith also showed his athleticism on the run, rushing for 431 yards and one TD this season.
Below is a chronological look at some of Alex's best plays from 2013.
1) Week 1 vs Jacksonville - Alex's First TD Pass in Chiefs Red
It took just two drives by the Kansas City offense, before Alex Smith recorded his first TD pass in Chiefs red. The team's new signal caller hit Chiefs WR Donnie Avery for the five-yard score. He later connected with Chiefs WR Junior Hemingway on a three-yard TD, the 83rd of his career. Smith completed 21 of 34 passes for 173 yards with two touchdowns in the 28-2 win, good for a 94.4 passer rating.
2) Week 2 vs Dallas - The Smith-Bowe Connection at Arrowhead
Trailing 13-7 in the third quarter of the Chiefs home-opener in Week 2, Alex found Chiefs WR Dwayne Bowe for the 12-yard, go-ahead score, before the eventual 17-16 win. Smith was 21 of 36 passing for 223 yards with two touchdowns in the contest, good enough for a 95.0 QB rating. He also set a single-game career high with 57 rushing yards on eight carries in the game to lead the team.
3) Week 3 vs Philadelphia - The 51-yard Special to Donnie Avery
Leading 10-6 in the second quarter against Philadelphia, Alex Smith hit Donnie Avery for a 51-yard gain, eventually leading to three points. Smith went back to Avery later, when facing a 3rd-and-10 from his own five-yard line, for 15 yards to keep the drive alive, leading to three more points, before the 26-16 win. Smith finished the game 22 of 35 for 273 yards (87.0 passer rating); he also ran 11 times for 32 yards in the win.
4) Week 5 vs Tennessee - First-and-Ten, Alex Does it Again
Pinned deep in their own territory in Week 5, the Kansas City Chiefs called on their QB to exploit a matchup they saw with Donnie Avery on the left side. Facing a first-and-10, from his own five-yard line, Smith completed the 41-yard toss to Donnie, keeping the drive alive, which ended with a 24-yard FG by Chiefs K Ryan Succop. The Chiefs went on to win, leaving Tennessee with a 26-17 victory.
5) Week 7 vs Houston - The Play Fake of the Year
Depending on who you talk to, Alex Smith's five-yard TD run against the Houston Texans in Week 7 was either a botched play or better yet, a remarkable play fake by our team's QB. If you watch the clip, you'll  hear the CBS TV broadcast team, Jim Nantz and Phil Simms, debating the play. Nonetheless, the score helped Smith lead the team to its seventh-straight victory.
6) Week 8 vs Cleveland - Eight in a Row for Smith and the Chiefs
Up 13-7 in the second quarter, facing the Cleveland Browns in Week 6, Alex Smith's precise-passing ability was once again on display, this time finding Chiefs WR Dexter McCluster for the 28-yard score. Alex recorded his eighth-consecutive win in a Chiefs uniform, becoming the first Chiefs signal-caller to win his first eight-consecutive starts in his first season with the team.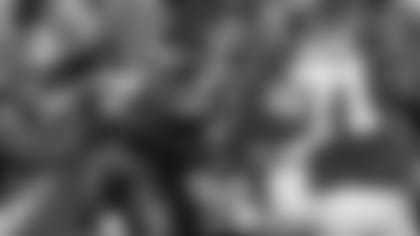 In the game, Smith completed 24 of 36 passes for 225 yards with two touchdowns for a 102.2 passer rating, his first 100.0 passer rating with the Chiefs. He added 40 rushing yards on six carries, crossing the 1,000-yard rushing plateau for his NFL career.
7) Week 14 vs Washington - Smith's Efforts in the Week 14 Snow
Snow didn't slow Alex Smith against the Washington Redskins in Week 14. Smith threw a 21-yard TD pass to Dwayne Bowe, one of his 14 completed passes for 137 yards with two touchdowns and no interceptions, good for a 122.3 passer rating. It was his eighth multi-touchdown performance of 2013.
8) Week 15 vs Oakland - Smith Delivers Perfection in Oakland
While most people remember the Week 15 game against the Oakland Raiders as Jamaal Charles' big day, Alex Smith also had a "Mom, look what I did" type of a game. Smith completed 17 of 20 passes for 287 yards with five touchdowns and no interceptions, good for a perfect 158.3 passer rating. He is the second Kansas City quarterback to record a perfect passer rating, joining Trent Green, who achieved the feat on Sept. 29, 2002. His five touchdowns are a single-game career-high and tie for the second-highest single-game total in franchise history.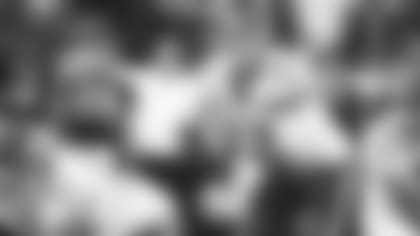 His 17 completions on 20 attempts were good for an 85.0 completion percentage, marking the highest single-game completion percentage in franchise history (minimum of 20 attempts). Smith averaged 14.35 yards per pass attempt in the game, marking the second-best single-game passing average in franchise history.
9) AFC Wild Card vs Indianapolis - Alex Shows the Arm Strength in Indy
Already having thrown a 63-yard pass to Dwayne Bowe in the first quarter, Smith topped the throw in the second quarter, connecting with Donnie Avery for a 79-yard score, establishing a new franchise record for longest pass reception in postseason play.
10) AFC Wild Card vs Indianapolis - The Improvisation Skills of Alex Smith
Of Alex Smith's 30 completed passes, which covered 378 yards, with four touchdowns and no interceptions, the most unique was his six-yard shuffle pass to Chiefs FB Anthony Sherman for the score. Smith's stats on the day were good for a 119.7 passer rating. His four touchdown passes set a new franchise record for most passing touchdowns in a postseason game, passing the old mark of three set by QB Joe Montana at Houston on Jan. 16, 1994.
Alex Smith addressed the media before leaving for the offseason, saying that the "foundation has been laid" for next year; Chiefs fans should expect nothing less than the exemplary play by their team's QB in 2014 and hopefully beyond.
ICYMI: Top Plays in 2013 by the: