The Kansas City Chiefs (5-2) won their third straight game by defeating the Indianapolis Colts (3-5) by a score of 30-14 Sunday afternoon at Lucas Oil Stadium in Indianapolis.
Here are 15 quick-hitting facts from Sunday's win:
1. Chiefs defense stands tall against one of the NFL's top offenses, again
2. Linebacker Dee Ford's big day moves him up the charts
After Ford's 3.5 sack performance on Sunday, which is a career best for the third-year player, he is now tied for fifth in the NFL with seven sacks on the season.
Ford's previous career high for sacks in a season was four, which he set last year.
It is interesting that of Ford's seven sacks this season, six of them have come away from Arrowhead Stadium.
3. Chiefs passing offense matches the high-powered Colts on Sunday.
4. Nick Foles wasn't afraid to take his shots down the field
As Chiefs coach Andy Reid stated in his postgame presser, Foles wasn't afraid to sling it around on Sunday, and some of the numbers from Pro Football Focus further illustrate that point.
Via PFF, "In 48 snaps this week, Foles averaged 9.7 yards per target, which would be the fifth-highest figure in the league (if he had a qualifying number of snaps)."
5. Andy Reid continues to climb all-time wins list
With Sunday's win, Reid is now tied for 12th on the NFL's all-time wins list with 178. For active coaches, Reid trails only New England's Bill Belichick (252).
Reid is currently tied with Mike Shanahan.
6. Chiefs defense went into Sunday's game with eight total sacks, leave with many more
Heading into Sunday's game, Colts quarterback Andrew Luck had already been sacked 25 times, which is more than any other quarterback in the NFL.
On Sunday, that total extended to 31 as the Chiefs finished with six sacks on the day.
The Chiefs have recorded six or more team sacks 58 different times in franchise history, and in those 58 games, the Chiefs have a 52-5-1 record. Since Reid and defensive coordinator Bob Sutton joined the team in 2013, the defense has recorded six or more sacks nine times. They are 9-0 in those contests.
7. Rookie defensive lineman Chris Jones thrived on Sunday
Jones had the first sack of his career early in the fourth quarter and it came at a time in which the momentum was at least flirting with going back to the side of the Colts, but Jones made sure it didn't get very far.
It was on the ensuing possession for the Colts after Travis Kelce's reception was overturned on a challenge by Colts head coach Chuck Pagano, and Jones brought Luck down for a loss of 7 yards.
Jones had another tackle for loss and added two quarterback hurries, and it was his effort that led to being held by the Colts offensive lineman in the fourth quarter that ultimately had Andrew Luck's 45-yard touchdown pass to Donte Moncrief rendered obsolete.
The flag was thrown, and instead of the score being 30-20 with a two-point conversion likely being attempted with just less than two minutes remaining in the game, the Colts were moved back and couldn't get anything going and the Chiefs held on for the 30-14 victory.
8. Travis Kelce earns high marks from Pro Football Focus
Following the 30-14 victory over the Colts, the folks over at PFF put together their grades on all of the individual performances by the players.
The best player for the Chiefs according to their rankings was tight end Travis Kelce, who finished with a grade of 90.0, which was the highest for any player on either team.
The highest grade for any Chiefs defender was safety Daniel Sorensen, who had a grade of 83.7.
9. After Sunday's win, the Chiefs playoff chances got that much better
10. Chiefs defense keeps taking the ball away
The Chiefs have intercepted a league-high 11 passes this season and recovered five fumbles, which ties them with the Minnesota Vikings for the most takeaways in the NFL this season.
11. Chiefs defense thrives when it matters the most
The Chiefs defense has only allowed 47 total points in the second half of their seven games this season, which ranks as the third-fewest in the NFL.
They have a second-half point differential of plus-39, which also ranks third in the NFL, as they've scored 86 points in the second half of games this season.
Overall, the defense is allowing just 19.6 points per game, which ranks No. 8 in the NFL.
12. Chiefs have been pretty good in the regular season for a while
The Chiefs are 15-2 in their last 17 regular season games, which is pretty good.
13. Turnovers continue to be the difference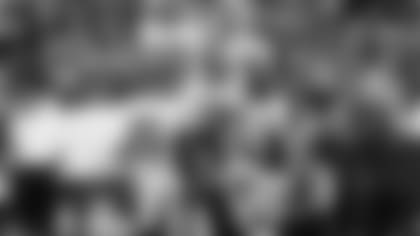 During the Chiefs current three-game winning streak, they have won the turnover battle, 6-0 (2-0 in each game), and it's proven to be a recipe of success for any NFL team, but particularly for the Chiefs under Reid.
Since the start of 2013, the Chiefs are 25-5 in games they win the turnover battle.
14. Tyreek Hill still thriving as a punt returner
Hill currently leads the AFC by averaging 15.9 yards per punt return.
On Sunday against the Colts, Hill had three punt returns for a total of 57 yards (19.0 ypr).
Hill also leads the Chiefs as a receiver with four receiving touchdowns this season, and he had the best offensive day of his career thus far on Sunday, finishing with five receptions for 98 yards and a touchdown.
15. Dadi Nicolas once again makes use of very few snaps
On Sunday against the Colts, rookie linebacker Dadi Nicolas played in just two defensive snaps, but he made both of them count.
On one, Nicolas batted down a pass at the line of scrimmage, and on the other, Nicolas helped get the quarterback off his spot and affect the play, which is the goal for any pass rusher.
Two weeks ago against the Raiders, Nicolas used one of his two snaps to affect the play on an inside move.
Photos from the Chiefs Week 8 matchup against the Colts