Cancer doesn't discriminate.
It doesn't care who you are or where you're from – and in one way or another, it finds a way to impact the lives of just about everyone.
It's a reality that the researchers at The University of Kansas Cancer Center are dedicated to ending, and for a second-consecutive year, the Kansas City Chiefs are partnering with the V Foundation to join that fight.
The collaboration, which was announced in front of a national television audience on Monday Night Football, will once again provide a young scientist at the KU Cancer Center with a $200,000 grant that's entirely devoted to cancer research.
It's the kind of partnership that transcends football.
"This was an easy decision for us," said Chiefs President Mark Donovan. "We want to identify ways that our partnership with The University of Kansas Health System can do more than just promote awareness of what they do and actually do good in the community. One of the things that the hospital has educated us on is just how qualified they are in these fields – and they're right here in our backyard."
The V Foundation, one of the preeminent cancer research charities in the country, is matching a $100,000 contribution from the Chiefs, the Hunt Family Foundation, The University of Kansas Health System and the KU Cancer Center in order to fund the grant, which is meant specifically for a young researcher just beginning their career.
"Young investigators often find it difficult to immediately compete for [large grants]," said Dr. Roy Jensen, the Director of the KU Cancer Center. "What grants like this do is they help young investigators collect some preliminary data for an initial test of their ideas."
That was the case last October, as Mary Markiewicz, Ph. D., was awarded a grant of equal value to fund her research at the KU Cancer Center on the human body's "natural killer" cells and their potential to combat cancer.
It's critical work that was made possible through the first partnership of its kind between the V Foundation and an NFL team.
"ESPN is our founding partner at the V Foundation, and in talking with them, we really came up with this idea together," said Norm Bowling, Chief Revenue Officer at the V Foundation. "Last year, the NFL [allowed] teams to partner with other charities in October beyond just the traditional program that the NFL had been doing for so long, and we thought it was a great opportunity to reach out to some of the teams and to try and have some impact in local communities."
The Chiefs – in partnership with The University of Kansas Health System – were the first team to turn that opportunity into a reality through the researchers at the KU Cancer Center.
"We're very proud to be the first," Jensen added. "This program means a lot to us, and we're really proud to work with the Chiefs and kind of lead the way on something like this. It's stimulating a lot of interest among other cancer centers, and just like the Chiefs, we always like to be in the lead."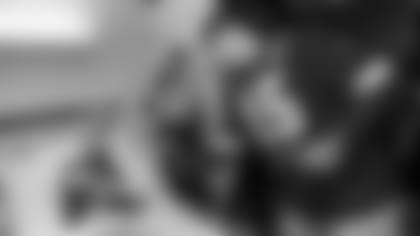 The University of Kansas Health System first teamed up with the Chiefs back in 2012, providing healthcare to the team and building a Sports Medicine and Performance Center location – open to athletes of all ages – adjacent to the Chiefs' Training Complex just a year later.
It's been a partnership focused on working together to make a difference locally from the very beginning, and it's garnered national attention. As part of the grant announcements in each of the last two years, the diligent work being performed at the KU Cancer Center has been highlighted at length on Monday Night Football.
"In our first conversations years ago, we asked them to trust that we were going to put them on stages that they couldn't find anywhere else," Donovan explained. "We didn't know what those opportunities were going to be at the time, but they trusted that when we saw them, we would take full advantage. This is a great example of that."
"You can see the fight that these people really have," Mahomes said. "That's stuff that you can look up to and it's inspirational because these people are laying it all on the line every single day. It's good to know that what I can do [on the field] can help lift their spirits."
It was a simple gesture, but one that went a long way for those at the hospital.
"For a couple of minutes, these people got to forget about what they're dealing with," said Bob Page, President and CEO of The University of Kansas Health System. "They got to really see what we have with the Chiefs and how important these guys are to us. It's incredible."
From facilitating those interactions to pioneering a relationship with the V Foundation and directly funding research right here in Kansas City, it all stands as an example of the Chiefs' commitment to being more than just a football team in their community.
"There are people being treated in buildings that didn't exist eight or nine years ago. There are doctors that are being funded by things that weren't available to them five or six years ago," Donovan said. "Last week, there were patients that got to meet the most popular guy in the National Football League right now. It's all just really satisfying, and it's why these partnerships make so much sense."