Back in June at the conclusion of Kansas City Chiefs' mandatory minicamp, coach Andy Reid was asked about any young receivers who had stood out to him, and he mentioned the well-traveled Seantavius Jones, who spent most of last year on the Chiefs' practice squad.
Since originally entering the NFL as an UDFA with the New Orleans Saints in 2014 out of Valdosta State in Georgia, the 6-feet-3, 200-pound Jones has spent time with the Saints, Eagles and Chiefs. He has played in just three NFL games, all with the Saints in 2015, and nabbed just 23 total snaps (18 of which were on special teams).
"He has done a nice job," Reid said of Jones back on June 16. "I know him by 'Stretch.' You guys know him by his real name, but he's done a nice job. He's had a chance to work in there, in the rotation, and do some things. He's a big kid that can run, pretty good hands.
"But again, he hasn't played. So, we have to see how he does in camp."
Fast forward to Saturday morning, and Jones was the story of the day.
On multiple occasions, Jones used his impressive combination of size and strength and made plays over All-Pro cornerback Marcus Peters, hauling in passes from Alex Smith and getting some run with the first-team offense.
Jones, who made sure to spread his playmaking around, also had a nice catch along the sidelines off a broken play in which he gave Smith a target on the outside and hauled in an over-the-shoulder catch on cornerback Terrance Mitchell.
"It was a pretty decent day," Jones smiled after practice. "I could do a lot of things better, but I'm just trying to progress every single day."
Jones admitted that it means a little more to make a play on a guy with the pedigree of Peters, who may only be in his third year, but has already won the NFL's Defensive Rookie of the Year award (2015), as well as being named a first-team All-Pro last season.
"Yeah, of course," Jones said. "If you can go out there and make a play on a guy like that, it's got to do something for you. [Peters] is leading the NFL in picks in the first couple years—when you go against someone like that—you've got to be at your best."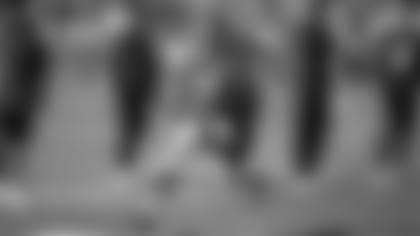 Jones, who grabbed 26 touchdowns in his final two years at Valdosta State, has bounced on and off the Chiefs' practice squad multiple times since initially being signed by the team in June of 2016, and now he's getting a real shot to show what he can do.
"I'm just trying to prove that I can be that guy," Jones explained. "A lot of people have seen me do some things, but they haven't really seen me perform to the best of my ability. I've been a couple of places, and I never have really been able to step in and get enough reps to really show what I can do, and now I've got the opportunity, and I'm just trying to make the most of it."
"[Jones] had a great day today," Chiefs' offensive coordinator Matt Nagy said. "When you get a chance and the ball comes your way, to be able to make plays (like he did), catch the ball and finish against one of the cornerbacks in the league, that's pretty good."
Jones looks like a create-a-player in Madden. He stands out with his combination of size and strength, but over the last year, he's picked up the nuances of the offense as well.
That's taken his game to the next level and given him a real opportunity in this camp.
"He can play fast now," Nagy said. "He knows what he's doing and he knows any of the adjustments that we have based off the coverage. Instead of thinking, 'Am I in the right position to make this catch?' He already knows he is and makes the catch and the play from there."
"The other nice thing with 'Stretch' is that he's able to play different positions, and he's a bigger guy," Nagy added. "So, not only outside can he use his height against some of the corners, but inside he's able to use some of his speed verse a linebacker and he's a nice target in the middle."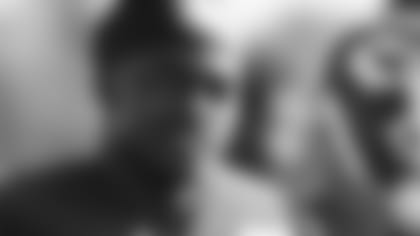 "It's really just confidence," Jones added. "Coming into this offense now, now that I've really paid attention and learned it, I can just go out there and play with confidence, play fast. I'm not thinking about anything other than football and having fun."
Jones' teammates also enjoyed seeing him get an opportunity to make plays on Saturday.
"It's fun to see Stretch do his thing," tight end Travis Kelce said after Saturday's practice. "He's a hard worker, somebody that when he's out there, he's full go all the time, even not in pads you still see him kind of playing physical and being aggressive to the ball. It's fun to see him growing, hopefully, he can keep growing and making everyone around him better because that's what great players do."
Jones, who has been released eight times in his career, knows of his opportunity right now.
"I mean, it's not just me," Jones said. "Everybody has a fair opportunity, so we're all out here competing. We know it's competition, so you got to come out here and be hungry and you have to go get it—and that's what I'm doing.