This morning, the Kansas City Chiefs announced that TE Travis Kelce was named the team's nominee for the prestigious Walter Payton NFL Man of the Year Award presented by Nationwide.
One of the NFL's highest individual honors, it recognizes an NFL player for outstanding community service activities off the field, as well as excellence on the field. Kelce is joined by 31 other candidates – one from each NFL team – who were also announced today.
"We are thrilled to have Travis Kelce represent the Chiefs organization and the Kansas City community as our nominee for the Walter Payton NFL Man of the Year Award," Chiefs Chairman and CEO Clark Hunt said. "From the time he was drafted in 2013, Travis has grown into one of the most dependable and dynamic players in team history – both on and off the football field. He continues to be the best tight end in the game, and he is well on his way to being remembered as one of greatest ever to play the position.
"Travis' commitment to winning is surpassed only by his enthusiasm for helping young people in Kansas City and his hometown of Cleveland Heights, Ohio. Through his 87 & Running Foundation and his work with Operation Breakthrough, Travis provides disadvantaged youth with the resources they need to discover their personal passions as well as mentoring and motivation to help them be successful. We are very proud to call Travis a member of our Chiefs family, and we believe he is a deserving candidate for this prestigious honor."
"Being nominated as the Chiefs Walter Payton NFL Man of the Year is one of the greatest honors of my professional career," Kelce said. "This team and this community have been an incredibly important part of my life for the past eight years, and I'm humbled because there are so many players who are also doing so much to serve others and are deserving of this recognition. The 87 & Running Foundation began to help disadvantaged youth by mentoring and motivating them to explore and develop their abilities and aspire beyond their circumstances. I'm extremely proud of the work we've done and want to thank my foundation team for their dedication and the Chiefs for their support of this important work. What I've accomplished on the field alongside my teammates over the years – especially last year – means so much more knowing that what has been accomplished off of the field is making a difference in the lives of others here in Kansas City and in my hometown of Cleveland Heights."
For the third year in a row, all 32 team winners will be highlighted as finalists and recognized for their important work during the weekend leading up to Super Bowl LV. The 2020 Walter Payton NFL Man of the Year will be announced during NFL Honors, a primetime awards special to air nationally the week of Super Bowl LV, on CBS.
All 32 nominees will receive a $40,000 donation in their name to their charity of choice. The winner of the Walter Payton NFL Man of the Year Award will receive a $250,000 donation to the charity of his choice. All donations are courtesy of the NFL Foundation and Nationwide. Along with the other 31 nominees, Kelce will wear a Walter Payton NFL Man of the Year helmet decal through the end of the season in recognition of his accomplishments on and off the field.
Since arriving in Kansas City as a third-round draft pick in 2013, Kelce has focused on reaching youth in the communities that are near and dear to him. In 2015, he introduced his 87 & Running Foundation to empower disadvantaged youth to achieve success by providing resources and support to their communities and cultivate their talents in the areas of education, business, athletics, STEM and the arts. To date, Kelce, through the 87 & Running Foundation, has donated $750,000 for various charitable efforts, while another $250,000 is scheduled to be made before the end of this year.
In Kansas City, Kelce's focus has been fixated on Operation Breakthrough, which provides a safe, loving and educational environment for children in poverty and empowers their families through advocacy, emergency aid and education. After making numerous visits to Operation Breakthrough for events, fundraising opportunities and mentoring, Kelce's first major collaboration with the agency was the development of the 87 & Running Robotics Lab in 2018, which remains accessible to nearly 200 students from three elementary schools as well as 100 high school freshmen in the area.
This summer, Kelce announced his largest contribution yet to Operation Breakthrough, a massive $500,000 donation to purchase a building adjacent to the current facility, which will be transformed into the Ignition Lab: Powered by 87 & Running. At the time of the gift, Kelce noted his goal was to eliminate barriers that prevented teenagers from the urban core from exploring future careers in the STEM sectors. The Ignition Lab will help Operation Breakthrough serve youth up to the age of 18, after they would have traditionally aged out of Operation Breakthrough's services and resources past the age of 14.
Additionally, Kelce has made multiple other financial gifts in Kansas City and in Ohio, especially as the agencies he works with were hit hard by the current pandemic. He gave nearly $140,000 in donations to Operation Breakthrough in Kanas City and the Heights Foundation in Ohio to help both groups navigate the challenges created by COVID-19. The 87 & Running Foundation also hosts a signature annual fundraising event, the "Walk the Walk" fashion show, to raise money for charitable initiatives and causes in Kansas City (2017-19) and Cleveland (2019). The brainchild of Kelce himself, the annual event combines his appreciation for fashion with his passion for giving back.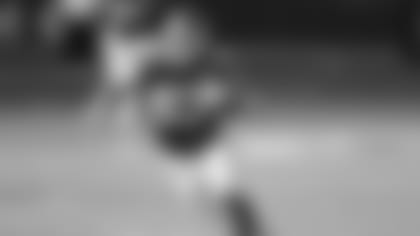 This season, Kelce has continued his dominance as the top tight end in the NFL, starting all 12 games, recording 82 receptions for 1,114 yards and eight touchdowns. He leads all Chiefs pass catchers in receptions, yards and yards after catch and is tied for the team lead in targets. He currently paces all NFL tight ends this season in targets, receptions, yards, first downs and 25+ yard receptions and is tied for the league lead in TE receiving touchdowns. His 1,114 receiving yards are the second-most by any player in the league this season while his 82 receptions are the fifth-most in the NFL. His 61 first down receptions are the most by any player in the league this year. He has caught a pass in 107 consecutive games, the second-best mark in franchise history and tied for the fifth-longest active streak in the NFL.
For his career, Kelce has appeared in 108 games with 101 starts. He has totaled 589 receptions for 7,579 yards, with 47 total touchdowns (45 receiving, one rushing, one offensive fumble recovery). He has started all nine postseason games he's appeared in with franchise records in postseason receptions (52) receiving yards (632) and touchdown receptions (six). Kelce ranks second in franchise history in both receptions (589) and receiving yards (7,579) behind only Pro Football Hall of Fame Tight End Tony Gonzalez. He became the first tight end in NFL history to record five seasons with 1,000 or more receiving yards, accomplishing the feat in five-consecutive campaigns (2016-20) when no other tight end had accomplished it in more than three-consecutive seasons. He became the 26th player in NFL history to record at least five-consecutive seasons of 1,000 or more receiving yards, joining a group that features eight Pro Football Hall of Famers. He has twice been named first-team All Pro by the Associated Press (2016 and 2018) and has been voted to five consecutive Pro Bowls (2015, 2016, 2017, 2018 and 2019). He has been voted a team captain for the postseason in each of the past four seasons (2016-19).
Fans are encouraged to participate in Nationwide's sixth annual Charity Challenge, a social media campaign designed to support and promote team nominees. Fans can vote on Twitter by using #WPMOYChallenge followed by their favorite nominee's last name. The player whose unique hashtag is used the most between Dec. 10 and Jan. 17 will receive a $25,000 contribution to their charity of choice, while the second and third place finishers will receive $10,000 and $5,000 donations, respectively, all courtesy of Nationwide. Hashtag information and official rules can be found at www.nfl.com/manoftheyear.
New this year, fans can win NFL Shop gift cards and additional money for their favorite nominee's charity. Each Monday during the #WPMOYChallenge, Nationwide will ask fans to respond on Twitter with their favorite nominee and one randomly selected fan each week will win a $100 NFL Shop gift card and $2,500 for their favorite nominee's charity. More information about the Walter Payton NFL Man of the Year Award can be found at https://www.nfl.com/honors/man-of-the-year/.