The Denver Broncos have developed a reputation for having one of the stingiest secondaries in the NFL, but don't tell Kansas City Chiefs tight end Travis Kelce.
Kelce made his presence felt in Kansas City's 30-27 victory over the Broncos on Nov. 27, catching eight passes for 101 yards. Eclipsing the century mark in yardage was significant, as Kelce is the only wide receiver or tight end to tally 100-plus yards receiving against the Broncos this season.
He also became the first tight end to notch 100-plus yards through the air against Denver since the New England Patriots' Rob Gronkowski on Nov. 2, 2014 (105 yards).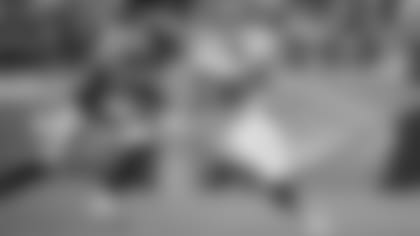 The Broncos have allowed just 183 yards passing per game this season, the best mark in the NFL, but Kelce's unique combination of size and speed poses a challenge for even the best defensive units.
"He's a great route runner," Chiefs co-offensive coordinator Matt Nagy said. "Whether you put a nickel defensive back, a dime defensive back or a linebacker on him where he can beat him with speed, he just [wins] those matchups."
In fact, Kelce has found success against Denver throughout his career. Since 2014, Kelce leads all players with 312 yards receiving and 148 yards after the catch against the Broncos.
"They're the reigning champions," Kelce said. "When you see them take the field, it makes you a little bit more focused and a little bit more determined knowing that you're playing the best of the best."
Kelce will need to bring it again this Sunday night as the Chiefs take on the Broncos with playoff implications for both teams on the line.